Apple Cupertino Mothership vs. Spaceship Buildings Around the World
Neat comparison of round buildings around the world vs. Cupertino Apple campus headquarters proposal.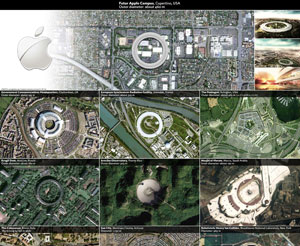 Apple Cupertino Campus Mothership vs. Spaceship Buildings
Comparison by Globaia of all these structures with sizes (not to scale). The proposed Apple Cupertino headquarters is larger than the Golden Eye satellite in real life:
Future Apple Campus, Cupertino, USA
Government Communications Headquarters, Cheltenham, UK
European Synchrotron Radiation Facility, Grenoble, France
Pentagon, Arlington, USA
Krugli Dom, Moscow Russia
Arecibo Observatory, Puerto Rico (James Bond Golden Eye)
Masjid al-Haram Mecca, Saudi Arabia
Colosseum, Rome Italy
Sun City, Maricopa County, Arizona, USA
Relativistic Heavy Ion Collider, Brookhaven National Laboratory, New York
Tevatron, Fermilab National Accelerator Laboratory, Illinois, USA
Grindtorp, Stockholm, Sweden
Wimbledon No. 1 Court, Wimbledon, UK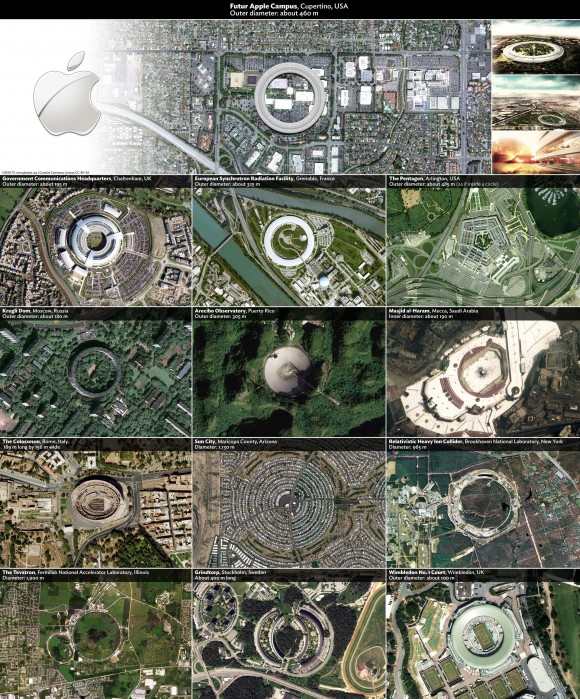 To see full 1.6 MB image, right click image and "Open link in new tab / window."
Related: here's OP's Apple Cupertino Campus size analysis.
[globaia (cached Globaia About Page) via gizmodo]

Related Posts