100,000+ iPad Apps in App Store
Apple's App Store now has over 100,000 iPad tablet optimized apps!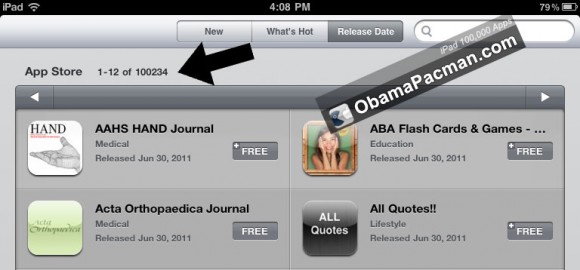 The number includes both iPad only apps and universal apps for iPad, iPhone, & iPod touch, Macstories reports. You can check the 100,000 iPad app milestone right on your iPad! Open App Store, go to "Featured," and click "Release Date."
There were zero iPad apps just slightly over 1 year ago. But due to Apple's iPhone ecosystem, developers were able to make over 1,000 iPad apps on launch date, and many more iPad apps since then.
Some of OP's favorite iPad apps out of many many great apps:
In contrast, RIM BlackBerry Playbook, Android, and HP WebOS TouchPad all suffer from low developer interest and low quality titles in their almost empty stores.

Related Posts