Yahoo Messenger Launches iPad Optimized App with Video Chat
Yahoo Messenger is now updated to be universal app with iPad optimized design with features such as free SMS.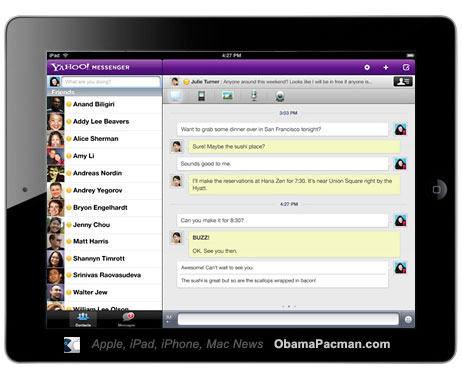 Previously optimized for the iPhone and iPod touch. New Yahoo! Messenger App also adds iPad optimized interface. Features:
Free voice and video calls to other iOS devices. It'll even work with iPad 2's cameras for video chat, with front and back camera switch just like this Apple FaceTime demo.
Free SMS: "Supports sending SMS to recipients in USA, Philippines, Vietnam, India, Indonesia, Malaysia, Canada, Pakistan, Kuwait and Thailand. Recipients of SMS may be charged by their carriers."
Phone out: Call landlines or mobile phones. Paid service "Available to premium users on iPhone and iPod Touch in US, Singapore, France, Germany and Spain." (Maybe they forgot to update the text for iPad?)
Share photos and video in real-time.
Notification: has multitasking. Can provide alerts in the background when new IM, etc arrives.
Windows Live Messenger account compatibility.
Instant messaging (IM) support.
Download Yahoo Messenger Universal iOS App [App Store, free].
Other apps such as Fring, Skype, or Tango are still iPhone and iPod touch optimized but works in iPad in x2 mode.

Related Posts