Space Shuttle Endeavour Final Flight Photo from Airplane, Shot with iPhone
Rare photo and video footage of Space Shuttle Endeavour's final launch this week. The iPhone using amateur photographer became instant celebrity and even got paid.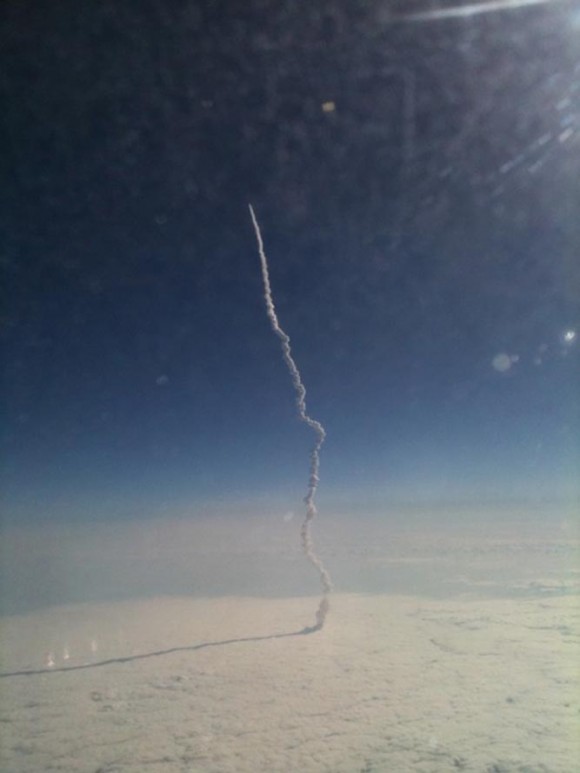 Space Shuttle Endeavour Twitpic Photo + Video
Stefanie Gordon was on a flight to Palm Beach Florida this week that had a chance to see the Space Shuttle Endeavour last launch. She thought nothing of it, until she saw the space shuttle through her airplane window.
With her iPhone Stefanie took two photos, a video, and tweeted about it using Echofon for Twitter [App Store, free]. Her first tweet, @Stefmara: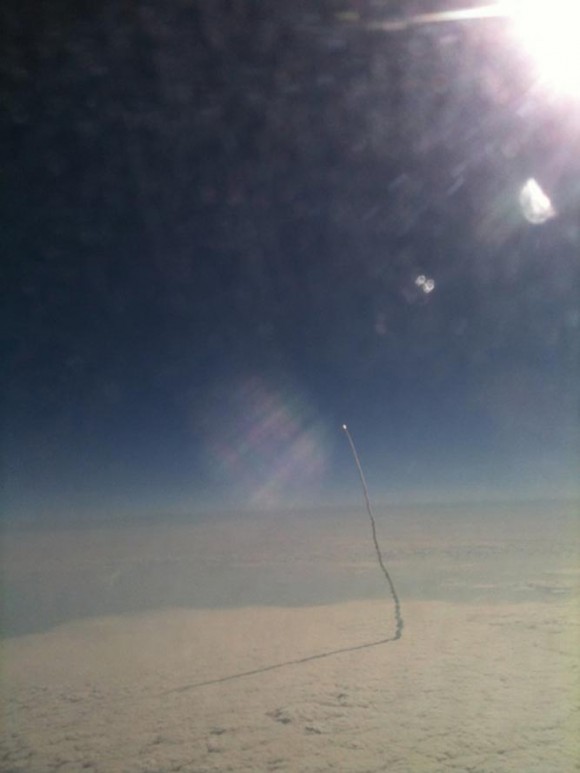 "Three things about my flight: I can lay down across 3 seats just fine, it was freezing & I got to see this. http://twitpic.com/4yg4ur"
She is not the only person who took photos but apparently, with the aid of the iPhone, she seemed to be the only one posted the photos and 12 second long video on twitter.
Power of social media: With followers of 1800, the images spread. (List of her tweets here, half way down the page). NASA tweeted her photo and news sites from, NBC, Washington Post, CNN, BBC, etc contacted her. She even appeared on MSNBC, CBS in Palm Beach, and ABC in Miami.
Space Shuttle Photo: Paid, Credited, & Snubbed
Stefanie is easy going about her Space Shuttle Endeavour photo and video usage, she told Mashable:
"I told every news organization that contacted me, 'as long as you credit me and spell my name right, you can use it."
NBC and CNN credited her. However, ABC and CBS used the video footage but without credit. (She was unhappy about that).
It raises the question on who owns the content when citizen journalists upload them to social sharing sites. Twitpic recently blogged that its terms of service clarifies that the creator maintains the copyright. But did not require credit when permission is granted to use the images.
She got paid as a journalist by others:
"Other news organizations treated her like a journalist who would expect to be compensated after capturing a newsworthy event. Gordon says The Washington Post and The St. Petersburg Times each paid $100 for the rights to print each photo. The Associated Press paid $500 plus royalties for each photo, she says."
iPhone Journalism / Social Media Sharing Tool
Without iPhone and Mac using Twitter making sharing easy, this might not have happened. Want proof? Flickr data puts iPhone 4 to be just about the "most popular" camera (and that doesn't even include older models of the Apple smartphone).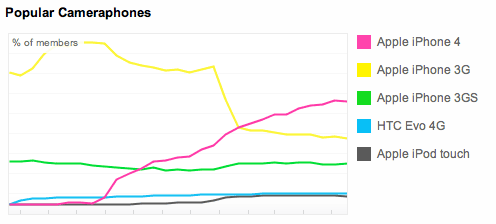 iPhone 4 also dominates other smartphones:

Past iPhone Journalism: New York Hudson Photo
In 2009, Janis Krums captured the first photo of flight 1549, which landed safely in New York Hudson river. Photo @jkrums posted on twitter / twitpic:
"There's a plane in the Hudson. I'm on the ferry going to pick up the people. Crazy."
Krums got a live TV interview on MSNBC 34 minutes after he tweeted the photo. In a report to iphonesavior:
"I started paying more attention to the impact of social media, because anyone with a phone can report news." Krums said.
As a result, Krums was able to start consulting part-time in social media. Even hired by Congressman Vern Buchanan to understand the power of social media.
As to the Space Shuttle Endeavour photographer Stefanie Gordon? She's looking for a job (her linkedin resume). We hope it works out for her.

Related Posts