Skype Alternatives (Microsoft Buying Skype for $8.5 Billion)
Microsoft is buying internet voice and video calling service Skype for $8.5 billion. Here are some Microsoft Skype alternatives.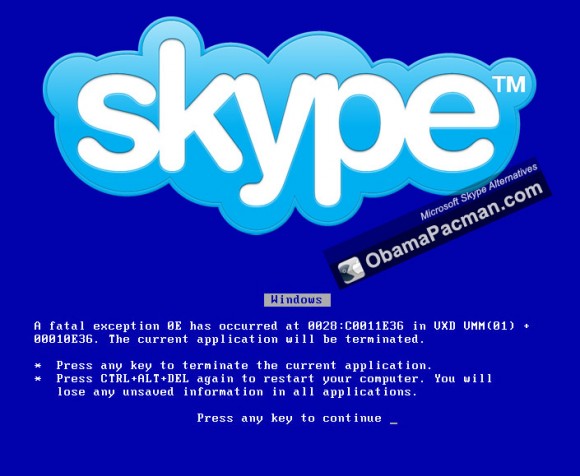 Before we get to the Skype alternatives, here is the background.
Microsoft to Buy Skype
Skype offers free text instant messaging, Voice over IP (VoIP) calls), and internet video chat. It also sells VoIP phone calls to land line around the country with Skype Out (similar to Vonage).
It was bought by eBay in September 2005 but sold in November 2009 to an investment group led by Silver Lake. Recently Skype released a FUGLY version 5 for Mac (as bad as Windows version), to the disapproval of its users.
On May 10, 2011, Microsoft announced Skype acquisition plan:
"Microsoft Corp. (Nasdaq: ìMSFTî) and Skype Global S.‡ r.l today announced that they have entered into a definitive agreement under which Microsoft will acquire Skype, the leading Internet communications company, for $8.5 billion in cash from the investor group led by Silver Lake. The agreement has been approved by the boards of directors of both Microsoft and Skype…

Skype will support Microsoft devices like Xbox and Kinect, Windows Phone and a wide array of Windows devices, and Microsoft will connect Skype users with Lync, Outlook, Xbox Live and other communities. Microsoft will continue to invest in and support Skype clients on non-Microsoft platforms."
Subject to regulatory approvals.
Basically, after a decade failing to copy competitor's services, Microsoft was still unable to make its own MSN Messenger / Windows Live Messenger attractive enough to beat Skype.
Skype iPhone, Mobile Support
In terms of mobile support, Skype offers iPhone, iPod touch apps, which are also usable on iPad. And more recently on Android. But but in 2009 Skype discontinued Windows Mobile phone support. There is still no support for Windows Phone 7 at this time.
Perhaps Microsoft paid $8.5 billion just to get Skype on its slow-selling Zune styled Windows Phone 7. Judging from Windows Live Messenger, Microsoft Skype will probably figure out a way to make it look worst and cripple it as it did with Microsoft T-Mobile Sidekick Cloud Fail.
The question is, how many Skype employees would Microsoft laid off. Would Microsoft abandon Windows Live Messenger users?
Microsoft Skype: Alternatives
So,what are some options to Microsoft Skype?
Fring: for iOS [App Store], Mac, PC, Android. Free video chat, IM, VoIP phone calls over Wi-fi or 3G. Has optional VoIP phone calls to landline with Fring Out. Very similar to skype.
Yahoo Messenger: for iOS [App Store], Mac, PC, Android, BlackBerry. Free video chat, IM on all devices over Wi-fi or 3G. Some services such as VoIP phone calls, phone in / out are computers only at this time.
FaceTime: Mac [Mac App Store] and iOS. Free video chat over WiFi. (As long as you don't do SexyTime wrong)
iChat: Apple iChat can use free AIM, mobile me accounts to video chat, share screen, photos, and videos remotely on Mac.
Conclusion, there are plenty of options to Microsoft Skype. Check them out.

Related Posts