Remote Mac Access with TeamViewer Host
Want to have 24/7 remote access to your office or home Mac? There's an app for that.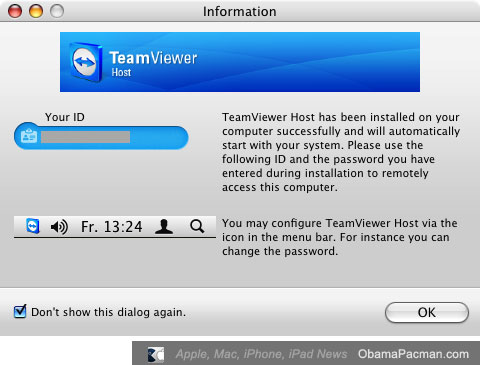 Remotely Control Mac from Mac, iPhone, iPad
TeamViewer offers computer or iOS to computer (Mac or PC) access that is perfect for remote support, presentation, and file transfer.
The regular TeamViewer client generate a different password each time, great for one-time access to the destination computer. But how can you access a computer if no one is around to give you the new password?
Enter "TeamViewer Host." With it installed, you can set your own password for remote 24/7 access. It can even remotely admin unattended Apple computers and servers, including login / logout. It also does Mac OS X 10.7 Lion beta.
TeamViewer traffic is fully encrypted with RSA private-/public key exchange and AES (256 Bit) session encoding. It has Various security settings including blacklist, white list, logging, lan control inclusion or exclusion.
Price? Unlike competing service LogMeIn, Team Viewer is free for non-commercial (personal) use and does not require signing up an account.
Download Mac TeamViewer + Remote Computer Control App
Download "TeamViewer full version" for one time only access / support / remote access. Requires someone to be at the computer to provide password. (First on the list).
Download "TeamViewer Host" to set up your home / office Mac for your personal remote access. (Few down on "additional downloads" section).
Site: [TeamViewer Mac]
Download Apple iPhone, iPod touch, iPad TeamViewer Client
Besides access from a Mac, you can also remotely access from iOS devices with these free apps:
Commercial use:
Note, the TeamViewer iOS Apps behaves close to Mac OS with trackpad (especially the zoomed in mode), not iOS Apps.
Download LogMeIn for iOS, Apple Remote Desktop for Mac
As an alternative for commercial use, try the highly rated LogMeIn Ignition [$29.99, App Store] universal app optimized for iPad, iPhone, and iPod touch.
If you need only Mac to Mac remote access, AND you know how to set up port forwarding from your router or firewall, then download Apple Remote Desktop [$79.99, Mac App Store] (this version 10.6 only).

Related Posts