Microsoft's Misleading "Do the Math" Campaign, Debunked
Microsoft's "Do the Math" advertising campaign compares fast Apple computers to slow PC (such as netbooks) on price, and left out some important features.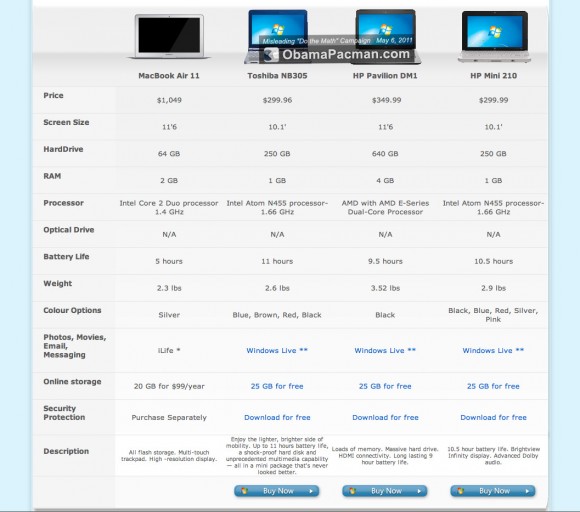 In its latest pathetic dishonest and clueless "Do the Math" advertising attempt, Microsoft tries to compare responsive Apple MacBook, MacBook Air, MacBook Pro, iMac to mostly low end PCs.
Microsoft Compares MacBook Air with Netbooks
MacBook Air 11″ (faster than harddrive based Mac and PC in number of things), is compared to sluggard netbooks Toshiba NB305, HP Pavillion DM1, and HP Mini 210.
The MacBook Air has:
Fast SSD storage (faster than any laptop and desktop computer harddrives. SSD reduces time for startup, application launch, sleep, and shut down to few seconds)
LED display (better colors, lower energy consumption)
High resolution display (less space taken up by interface elements, and more screen space to work)
Better processor (Atom processors in PCs are too slow for desktop OS, and too power-hungry to be useful for tablets)
Multi-touch trackpad
Large trackpad for precision work
No viruses, does not need "Security Protection"
And more
The price of 2010 MacBook Air is $999, Microsoft's misleading PC vs. Mac site lists it as $1049.
iMac 27″, Mac vs. PC, Do the Math
Microsoft also tries to compare the 27″ Quad-core Thunderbolt iMac to 23″ all in one duo-core PCs.
However, iMac has:
Newest processors with Sandy Bridge architecture
Thunderbolt (Mac first, coming to PC almost a year later)
27″ display while the PC only has 23″ display
High quality IPS LED display (all iMacs have them), not on PCs. Dell's comparable 27″ IPS high resolution display costs $900 [$899 on Amazon], without a computer.
Microsoft FAIL: Samsung 900 X 3A Laptop Price Lies
Apparently, Microsoft FAILS at its own "Do the Math" scheme.
In another bad comparison, Microsoft lists the $1299 MacBook Air 13″ as "$1,349″, and the Samsung 900 X 3A PC at "$899″.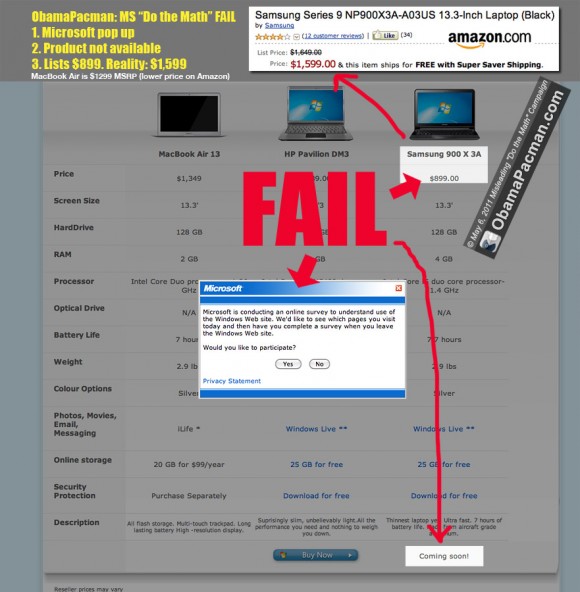 In reality, the Samsung computer costs close to $1600 with the specs listed. Yes, the Samsung knockoff PC listed by Microsoft costs [$1599 on Amazon
]. The PC costs more than the MacBook Air, with actual MSRP of $1299 and currently only [$1234 on Amazon
].
Conclusion
Ultimately, Microsoft not only listed false prices. The misleading campaign also doesn't show the performance and value of Apple computers. Further more Microsoft 'forgets' to mention the Windows tax of frustration and wasted time.
This has happened before. In 2009 Microsoft launched a brief "Laptop Hunter" commercials. But instead of stopping people from switching to a Mac, the Microsoft 2009 campaign didn't work. Apple growth has been ahead of the computer industry every quarter for the past five years. Meanwhile, worldwide PC shipments from HP, Dell, and Acer all dropped in recent times.
Btw, in reality, even the 1984 Mac boots faster than better spec PC with Windows from 20 years later.
[Fail site: Microsoft "Do the Math" (expect Microsoft sanctioned popups)]

Related Posts