iPhone 5 Casting Calls: Real or Fake?
Craigslist lists iPhone 5 commercial casting call in LA. Is Apple shooting commercials for the next generation iPhone already?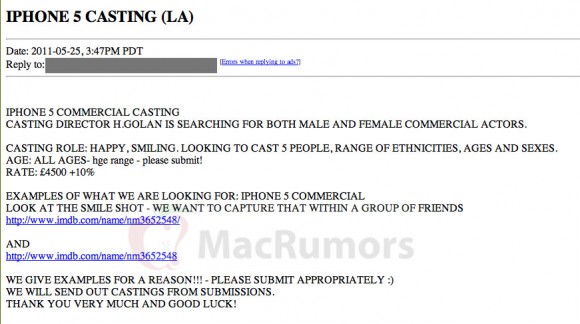 This week, a craigslist post claims:
Casting director H.Golan is searching for both male and female commercial actors.

CASTING ROLE: happy, smiling. Looking to cast 5 people, range of ethnicities, ages and sexes…
AGE: all ages- hge range – please submit!
RATE: £4500 + 10%
It's a scam. Here are some of the reasons:
Fortune 100 companies or their agencies typically do not post on craigslist
Legit casting agency typically do not tell TV commercial actors or actresses what role they are applying for. So unless you are Megan Fox or the like, you won't get to choose your client before they choose you.
Anyone can post anything on the internet. Including Craigslist pranks. Solution, just ignore them, don't even reply.
Compensation is in British pounds for a US "job." And 10% of what? (Note: scammers typically claim they are not in your city. If you are in US, scammers would claim to be in another country, or a city far away. For listing posted outside of US, scammers would claim the job is in the US or pays USD.)
Also, mind the gap CAPS. Surely all legit multi-national corporations start their messages with all caps. (Um, no).
So, don't dream of richest from craigslist. Not from Apple, especially not from the next generation iPhone 5 casting call. (If you still believe it's true, ObamaPacman has a iPhone 5 prototype to sell you).
In a related note, for those with modeling or acting aspirations, beware of companies or "modeling agencies" that want to charge to "train" you. (If they really want you, they'll pay for the training).
The scam post has been removed.

Related Posts