iPhone 4 Has Best in Class Microphone Noise Cancellation Processor
Apple iPhone 4 Audience noise cancellation chip secret revealed, better than cell phones with non-Audience chips.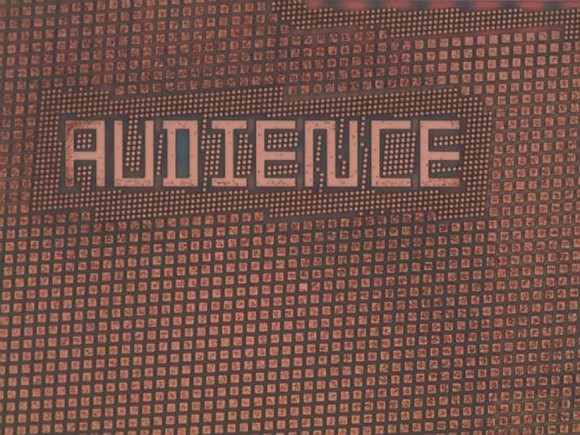 iPhone 4 contains two microphones. One on the bottom, and a noise cancellation microphone on the top next to the headphone port. But how is it processed? Next to the Apple A4 processor, iPhone 4 contains a chip used to "cut out ambient noise and improve sound quality." But the origin of the chip has been a mystery for iFixit since they performed their iPhone 4 tear down last year:
"There was one small, 3mm x 3mm chip that we weren't able to identify during our teardown. It was white-labelled, meaning Apple asked the manufacturer to remove their branding from the package to make it difficult for folks like us to identify. The markings on the chip '10C0 01S8 0077′ didn't match any existing part in our database, and we didn't pursue it further."
But ifixit found that Chipworks decapped / deconstructed the mystery iPhone 4 audio chip, and determined to be the Audience 10C0:
"Low Power audio signal processor found in Apple iPhone 4. This device has an embedded DSP as well analog front ends."
What does it mean for the iPhone 4 microphone audio quality? iFixIt:
"The iPhone's audio cancellation capabilities are very impressive, outperforming every non-Audience powered cell phone we've tried."
iPhone Microphone Noise Cancellation Quality
iPhone 4 noise cancellation example. Typical cell phone vs. iPhone 4:
Very few phones contain the Audience chip, even today. Apple is expected to include similar if not better technology in the new iPhone 4S / iPhone 5, expected in September 2011.
iFixit provides guides, product tear downs, and sell parts + tools for repairs and upgrades of all Apple products. They even provide an excellent repair manual as iPad App.

Related Posts