iPad Electronic Flight Bag Replaces Paper for Alaska Airlines, FAA Approved
Alaska Airlines is the latest billion dollar corporation to replace paper with iPad. Their goal: "to enhance flight safety, improve efficiency and protect the environment."
iPad Electronic Flight Bag, Alaska Airlines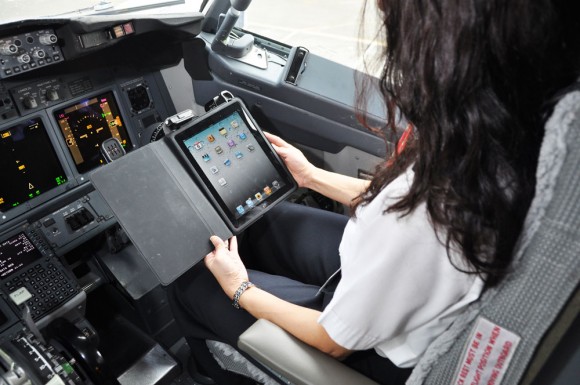 "We've been exploring the idea of an electronic flight bag for several years, but never found a device we really liked," said Gary Beck, Alaska Airlines' vice president of flight operations. "When the iPad hit the market, we took one look at it and said this is the perfect fit."
Following a successful trial with 100 line and instructor pilots and Air Line Pilots Association representatives, iPads are being distributed to all Alaska Airlines pilots. The transition from paper will complete by mid-June.
41 flight, systems, and performance manuals, reference cards, and other materials are now available for Alaska Airlines pilots on iPad through GoodReader [App Store].
iPad Cost Savings
But isn't iPad more expensive than paper? Actually:
iPad saves paper, printing and distribution costs.
Fule savings. Pilot's flight bags can weight up to 50 pounds (22.6 KG) fully loaded. By replacing it with the iPad, which weights 1.33 pound (601 g), the airline can actually save money from reduced weight.
iPad is expected to result in "fewer back and muscle injuries caused by pilots carrying flight bags."
Ease of use. iPad reference books are hyperlinked. Faster to search than paper.
iPad manual is easy to update. No more labor intensive process to replace paper manuals page by page.
Better than holding and keeping track of 50 pounds of paper during turbulence.
iPad Reliability
Earlier this year, the Federal Aviation Administration (FAA) has approved iPad as the "cheapest and most portable" EFB (electronic flight bag).
The Apple tablet even performs perfectly in tests:
"As to redundancies in case of failure or a software crash, the likeliest scenario is that pilots will carry a spare iPad with them, though there wasn't even a single (software) crash during the trial period — which also included rapid decompression and electronic interference testing."
Perhaps we'll see iPad controlled airplanes soon than later just like iPhone, fly like the G6.
[alaskasworld via engadget]

Related Posts