iMac Updated with Quad-Core, Sandy Bridge, & Thunderbolt
Apple updates the whole iMac line with quad core processors and new goodies. Details.
2011 Thunderbolt iMac with Intel Quad Core, Sandy Bridge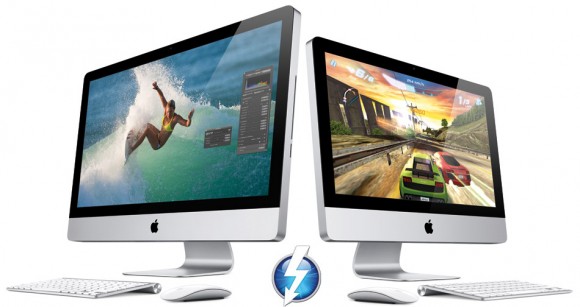 Apple's iMac just got even better, new features include:
i5 processors, with i7 option available
High speed Thunderbolt I/O (21.5-inch has one, 27-inch has two ports)
FaceTime HD camera, can video chat with iPhone 4, iPod touch 4th gen, iPad 2, and other Intel Macs
The new quad-core imac still meets stringent Energy Star 5.2 requirements and achieves EPEAT Gold rating. Other standard features include:
SuperDrive, SDXC card slot, audio in, audio out, USB 2.0, FireWire 800, Gigabit Ethernet
LED wide-screen display with high quality IPS display
Quiet computing: typical acoustical performance on standard iMac 18 dBA at idle
Bluetooth, 802.11n Wi-Fi wireless
Snow Leopard and iLife 11
Options available on select models include
Combination SSD + Harddrive
AMD Radeon HD 6970M 2GB
3.4GHz Quad-Core Intel Core i7
Get the new 2011 Thunderbolt iMac at Apple Store:
When will we see creatives recording their Apple Store dance (+ flash mob dance, and lip sync kid) in HD? Probably real soon.

Related Posts