Google I/O: Everybody Uses Apple Laptops
Looks like just about everybody at Google I/O 2011 use a Mac, including Google engineers. iPad 2 even gets some jealous looks.
Google I/O 2011 Developer Conference
Plenty of Mac photos from Google I/O 2011 developer conference (started 2008) at Moscone Center in San Francisco, where Apple holds its WWDC since 2003. Coincidence or merely following the Google secret business strategy?
iPad 2 vs. Wanna Bee Tablet
Someone with a tablet / slate looks sad, when he compares his device with iPad 2. Notice how the iPad 2 owner looks happy: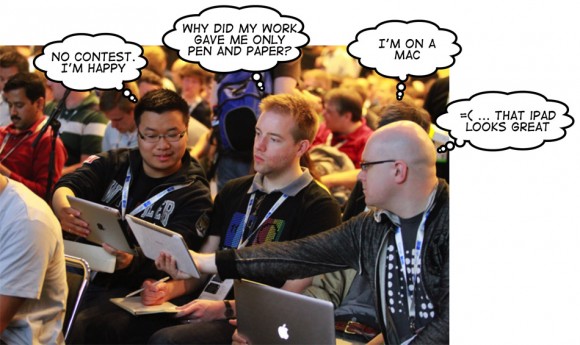 Speculative thought bubbles by OP Editor.
Android Phone vs. Apple Laptop
ObamaPacman notices Apple laptop is thinner than Android phone in this photo: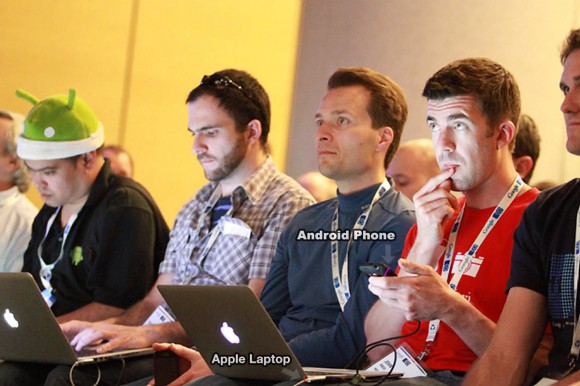 The Apple MacBook Air is even powering the power hungry Android phone. The die hard Android fan (with the Android snail hat) on the left also uses a Mac.
Google Engineers Use Apple Computers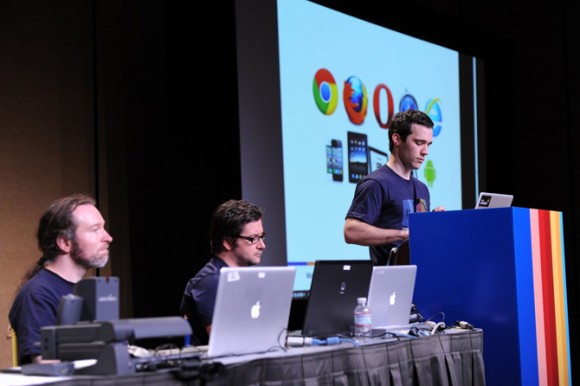 Google engineers also used Apple laptop to make their presentations.
Some how, no one from Google or from the audience seems to be using the Google Chrome OS Cr-48 (CrAp) Crippled netbook, which was given out free in December 2010.
See gallery of 9 photos of Google I/O audience, bloggers, Google demo table, Galaxy Tab guy, and Google die hard fan all use Mac, at 9to5mac's new site:

Related Posts