Google Android Group Uses "Compatibility as a Club" on Partners
Skyhook Wireless vs. Google lawsuit reveals Google's anti-competitive practices against its partners of Android phone makers.
Google Antitrust: Android "Compatibility as a Club"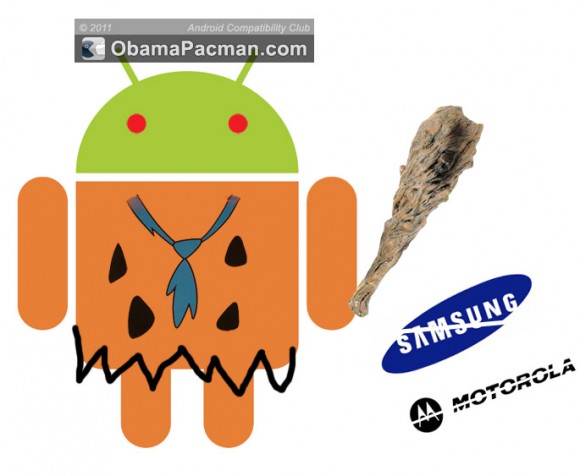 Google used 'compatibility' excuse to unfairly prevent competition, instead of dealing with Android Fragmentation problem.
Skyhook Wireless vs. Google Lawsuit
Boston-based Skyhook Wireless is a pioneer of location services established in 2003. The company offers services that combines wi-fi hot spot with other sensors (such as cell towers) to acquire location data.
In April 2010, Motorola and Samsung both choose to use Skyhook Wireless location service over Google's own for their nominal "open" Android phones. The problem is, Google reveals its Neanderthal side. Google realized that carriers using a rival's system would cut Google out of lucrative location ads, and choose to ruthlessly act against Skyhook competition. NYT reveals some of Google's emails uncovered by the Skyhook Wireless lawsuit:
In an e-mail on Aug. 6, 2010, Dan Morrill, a manager in the Android group, noted in passing that it was obvious to the phone makers that "we are using compatibility as a club to make them do things we want."

Whether that club is an anticompetitive weapon is an issue in the court case.
Even though Google testing determined that Skyhook is as good as its own services, Google Android department forced Motorola and Samsung to not use the competitor's service:
In an e-mail dated June 2, 2010, Tim Vangoethem, a Motorola executive, wrote to Skyhook executives that Google had informed Motorola that Skyhook's location service on the planned smartphone "renders the device no longer Android Compatible."
Why? So Google could track its cash cow Android drones, to make more money.
Android = Openness? NOT.
Illustration of Neanderthal Android Flintstones Club by OP Editor.

Related Posts