Ghetto iPad 2, 'Note Slate' Tablet, Comes with Stylus
Meet Note Slate, it's no iPad 2. It's a tablet with stylus and black and white display, just like the 90's Apple Newton.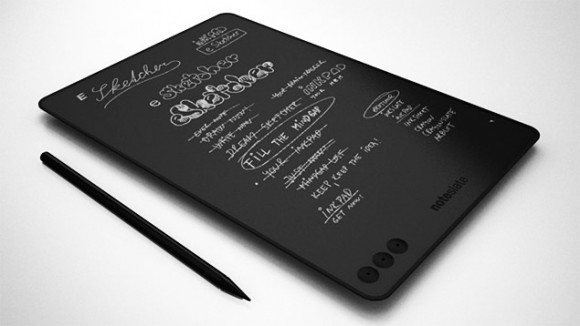 Ghetto iPad 2, 'Note Slate' Tablet w/ Stylus
It might not bring you back to the iPad future, but definitely bring you back to the 90's.
The Note Slate tablet has no email, no web browser, no games, no Maps, no videos, no Garageband or iMovie. It is just a big drawing pad aiming to recreate pencil and paper. It does have a stylus you can draw with, the other end of the stylus serves as an eraser.
Note Slate comes with only one-color E-ink (red, green, blue, or black), just like one color pen + paper. At least its maker owns up to it.: "Real size display in 1-bit ancient interface." There is no anti-aliasing in the pixel based display, where 1mm = 4 pixels.
iPad 2 with high quality IPS display is still manages to be slightly thinner. The Note Slate 1 color e-ink display is larger though, at 190mm x 270mm, larger than iPad's EXTERIOR dimension of 185mm x 241mm.
Note Slate has 3 physical dedicated buttons are: Save, Show, and Delete. Don't press the delete by mistake!
Note Slate PR FAIL: "Human Touch" with Stylus
Irony: "Authentic digital content simply with human touch." Obviously they didn't realize a stylus isn't "human touch." A finger is human touch.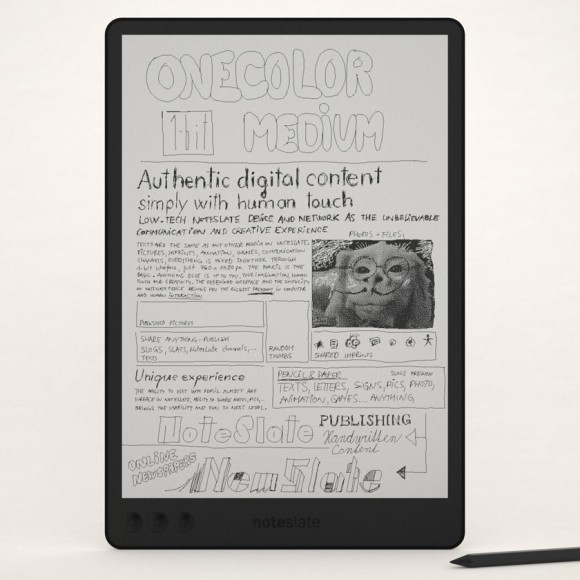 You can save $400 on the price of iPad 2 and get this $99 "tablet." (WiFi version costs more). But you can also get pencil and paper for a few dollars to do the same thing.
Conclusion, Note Slate is an interesting product, it's not an oversized phone, but seems to be the most expensive under-sized chalk blackboard ever! =p

Related Posts