Foxconn iPad 2 Factory Explosion Tragedy (& Apple Statement)
A building of the Foxconn Chengdu, Sichuan China factory complex suffered an explosion earlier today. 2 dead, 16 injured.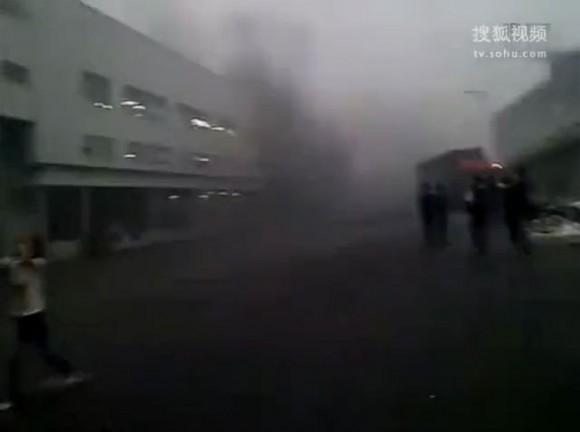 Video: Foxconn Factory Explosion
Explosion happened around 19:10 local time at the Foxconn Chengdu manufacture plant, Micgadget describes. More than 10 fire engines, ambulances and 10 police cars responded to the explosion.
It is said that the explosion took place during shift change. Preliminary police investigation ruled out human factors. The Foxconn building A05 is the production line of iPad 2.
Foxconn Statement Factory Explosion
Foxconn statement to gizmodo:
"We can confirm that at approximately 7 pm on May 20, there was an explosion at our Chengdu campus. At this point, we can also confirm that there were two fatalities with injuries to 16 other employees. We are working with medical officials to provide treatment to the injured employees and we are working with government and law enforcement officials to contact the families of all employees affected by this tragedy.

The situation has been brought under control by the fire department and the cause of this explosion is being investigated by local police officials. Foxconn is cooperating fully with that investigation.

Production has been suspended at the site of the explosion until the completion of the investigation. The safety of our employees is our highest priority and we will do whatever is required to determine and address the cause of this tragic accident."
Apple Statement, Foxconn Factory Explosion
Apple statement to all things d:
"We are deeply saddened by the tragedy at Foxconn's plant in Chengdu, and our hearts go out to the victims and their families. We are working closely with Foxconn to understand what caused this terrible event."
What Does It Mean?
ObamaPacman: Although the loss of human life is tragic, looks like this might be a freak accident. Foxconn employs over 1 million people and this kind of accident rate is actually quite low in terms of statistics. Hope they can make safety improvement though.
Foxconn produces more than Apple products. Its client list includes Apple, Acer, Amazon, Asus, Intel, Cisco, HP, Dell, Nintendo, Nokia, Microsoft, Sony, Sony Ericsson, Samsung, and Vizio.
iPad 2 factory production line is likely to be shut down possibly for weeks to investigation and repairs. As a result, Apple's popular tablet, with high demand outstripping supply, is likely to see longer shipping times.
Update:
Micgadget tweet:
"The cause of the explosion is due to a special dust, which is flammable. And someone was smoking."

Related Posts