FAIL: Apple iTunes Mac Download Link Broken (for some people)
Mac iTunes download link from Apple.com has been broken since last night.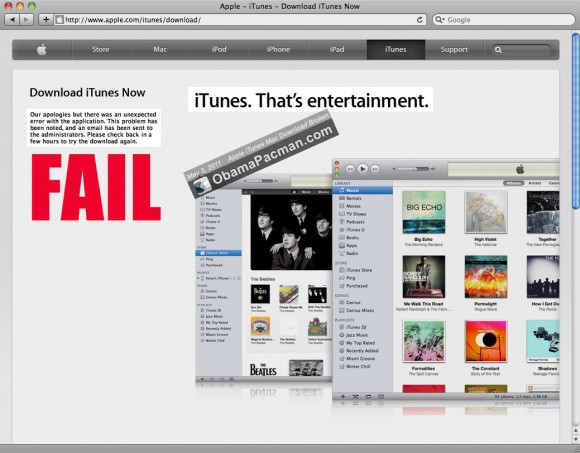 Apple Unexpected Error
UPDATE: Doesn't seem to be a consistent problem. We've tried 2 computers (10.6.7, 10.4.11) on 2 ISP (Cox and Verizon), and two DNS services (OpenDns and google dns) and still seeing the error page. But others mentioned it works fine for them.
UPDATE 2: Apple fixed the problem few hours after this article was published. =)
Some people trying to download iTunes for Mac are running into a bug on Apple's web site. The http://www.apple.com/itunes/download/ page, which normally auto-detect computer system and offers the latest iTunes download produces this error on a Mac:
"Our apologies but there was an unexpected error with the application. This problem has been noted, and an email has been sent to the administrators. Please check back in a few hours to try the download again."
None of the download link from Apple website works at this time, confirmed ObamaPacman.com Apple blog. This seems to be the website version of BSOD / spinning beach ball of death.
This bug only affects the very small number of people who uninstalled iTunes and don't have a Time Machine backup. (All Apple computers come with iTunes pre-installed and it's updated easily Software Update, so this problem does not affect most people.)
Download Latest and Old iTunes for Mac, Windows
Guess what, there's a solution. You can download all versions of current and old iTunes from OldApps.com (Update: Mac versions no longer there, wtf?).

Related Posts