Darth Vader + Mac DJ Performs Trombone Salsa Dance
Another sign of the apocalypse. Darth Vader, Star War's Sith Salsa Lord, performs for your entertainment!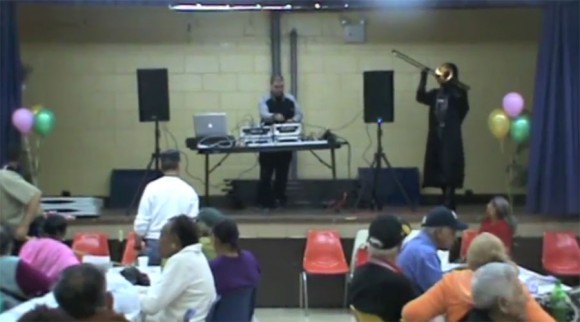 Video: Dancing Darth Vader Salsa Trombone
Song consists of very short snippets of all popular salsa and latin music, including the The Imperial March:
"Dancing Trombonist Jonathan Arons performing Darth Vega Salsa routine at Andrew Jackson Senior Center in Bronx, NY"
We would love to see this at the Star Wars "It's a Frap" cafe. Surely beats the Microsoft fat Vader + Windows Zombies or the Samsung stalker ad.
Best comment? Youtube user Xilvertear on the video: "Rapture be dammed. Now I have officially seen everything."
[Jonathan Arons via geekologie]

Related Posts