Counterfeit Cut the Rope BlackBerry Game Developer Aztux Threatens to Sue OP
Jackassery: Aztux Ltd claims copyright infringement and libel against ObamaPacman review of Cut the Cable, threatens lawsuit. Full letter.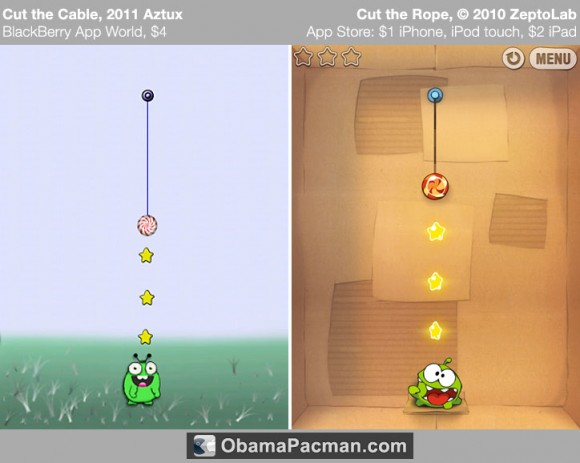 Few weeks ago, we published criticism of BlackBerry developer Aztux for making unauthorized copy of iOS game Cut the Rope. In a nutty turn of event, the developer now claims right on its unlicensed software knockoff.
Got a letter around 9AM this morning from "Dr Gareth Owen" of Aztux Ltd, developer of Cut the Cable for BlackBerry:
Dear Obama Pacman

Your review at http://obamapacman.com/2011/05/ios-doomed-fake-blackberry-software-catches-up-with-cut-the-rope/ uses works that we own the copyright to. Namely the screenshots, the textual description and the logo. Your use is not licensed by us.

Please remove the imagery and textual app description from your site immediately.

Your claim regarding us reviewing our own product is also libellous. Please remove it.

You are free to make fair comment about our work, but you are not free to use our images or other materials without the appropriate licence or to make libellous claims.

If you fail to remove the above within 48 hours we will seek to recover damages from you.

Best wishes

Aztux Ltd
So it appears more than one person is responsible for the Aztux knockoff making operation (or perhaps the developer figured out how to use a different name to post comment). Just before the email, at 8:33 AM, "Mark Taylor" commented on the original article:
"I see a lawsuit against Obama pacman for libel and copyright infringement. They both seem a pretty sure bet."
Too bad Aztux doesn't seem to understand copyright or libel laws. We're no lawyer but we might have slightly better grasp of claims.
Copyright: Fair Use
US Federal government, copyright office on fair use:
"Section 107 contains a list of the various purposes for which the reproduction of a particular work may be considered fair, such as criticism, comment, news reporting, teaching, scholarship, and research."
In the interest of criticism, comment, and news reporting, here's the Cut the Cable logo Aztux claims ownership to (left) compared to Cut the Rope logo (right):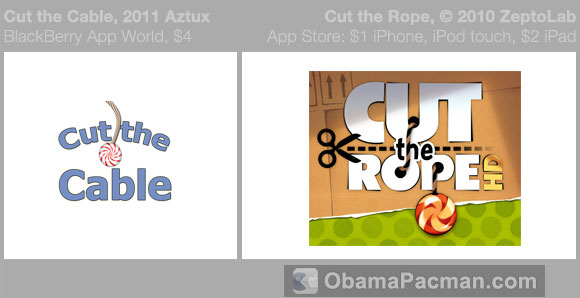 The developer also has abandoned the original logo in the version 1.2 update, and replaced it with a new logo that looks similar to the left image: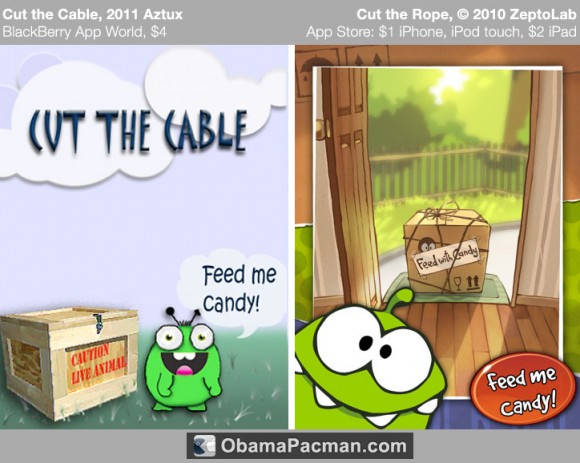 Surely that's original, non-derivative, and wholly licensed work. Aztux even boldly claims:
"Cut the Cable is BlackBerry / Android's equivalent of fantastic Cut the Rope physics game."
Libel Claim
In the US, to prove libel, the plaintiff must prove that the statement was false. As far as we know, the statements made by the ObamaPacman are true and not misleading.
Seriously, who is going to believe that drdevil44 and drdevil2 are different people unrelated to Aztux? Obviously, according to Aztux logic, ObamaPacman can escape the libel claim simply by changing name to ObamaPacman2. They are surely not the same person!
Conclusion
LOL, Aztux, you are too late for April fools. Sorry, are you going to send your frog (um, green monster) after us? Copying the intellectual property of developer Zeptolab then claiming ownership of the knockoff? That's low.
Update 1:
Few hours after press, Mark Taylor from Aztux wrote:
Dear OP:

This matter has now been referred to me.

I'm afraid it is you who doesn't grasp the copyright laws. The US law does not apply here – you are subject to the rules under the Berne Convention.

You are obviously breaching our copyright willingly and against the convention.

We consider your two statements:

- False advertising
- Use of the word counterfeit

to be libellous.

I will now pass the matter to our US lawyers in Washington DC. They will assess our damages and be in contact shortly.

Best wishes
Mark
OP note: find the faults of this email. We are not saying what they are, but thanks and great job Mark!
Update 2:
Mind the douchbag: Aztux tried to take down the content with DMCA on May 31, 2011.
Seems a certain company is digging itself deeper in the hole. Claiming ownership of content that they tried to copy (poorly)? Wow.
By the way, attempt to remove the news report of Aztux's copyright violation from ObamaPacman won't help you, because ZepoLab already has all the infringement screenshots.
Update 3:
ZepoLab, May 31, 2011: our lawyers have "sent Cease and Desist letter to Aztux last Thursday."
Update 4:
ZepoLab, June 1, 2011: "The funny thing we have realized: they have actually used our previous legal notice as a template for a DMCA text they've sent to you. It has the whole paragraphs of the borrowed text."
"We've sent another Cease and Desist letter to Aztux Ltd, and from what we can see at the moment, their app has been removed from their web-site and from Blackberry and Android app markets".

Related Posts