Benchmark: Dell XPS 15z Mac Knockoff Dominated by Apple MacBook Pro
Mac vs. PC. How does the Dell's MacBook Pro knockoff compares to the Apple laptop in benchmark and usability?
Triple Benchmark: Dell XPS 15z vs. Apple MacBook Pro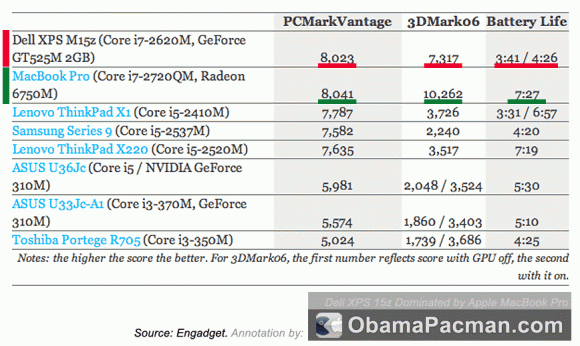 Apple's February 2011 MacBook Pro out-performs the Dell XPS 15z in Engadget's PCMarkVantage, 3DMark06, and battery life benchmarks.
PCMarkVantage shows the 3 month old Mac is still faster than the latest PC laptop:
MacBook Pro: 8,041
Dell XPS M15z: 8,023
3DMark 06 shows the Mac comes with superior GPU (better for 3D tasks / games):
MacBook Pro: 10,262
Dell XPS M15z: 7,317
In their test, Apple laptop has about 7.5 hours of battery life, easily dominating the Dell PC which has 4.5 hours of battery life. And that's with the Dell having a slower processor: Dell only comes with Duo core processor, while the Apple MacBook Pro has the latest i7 quad core processor and better GPU.
Dell XPS 15z Review
Review? Dell blatantly copies MacBook Pro, but produces another low quality computer with the XPS 15z:
"Though the XPS 15z most definitely looks like a MacBook Pro and sports similar materials, you'll wind up disappointed if you're expecting the same exacting attention to detail. You're looking at an aluminum and magnesium alloy sandwich here, not a unibody frame, and much of that metal is thin enough to flex under a little bit of pressure."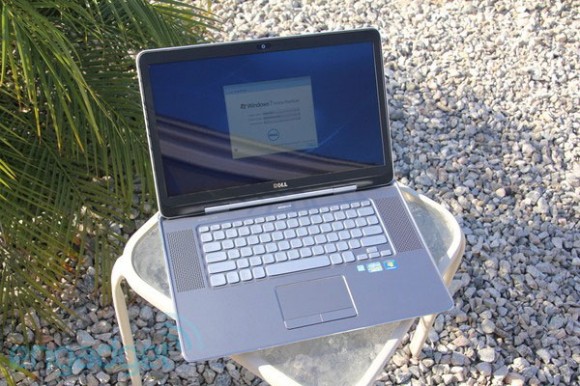 Similar to other superficial knockoffs, Dell tries to copy the look but not the function of the real Apple product. The Dell PC also does not have Apple Magsafe or Kensington lock slot, standard on MacBook Pro.
Dell XPS 15z tested costs $1499. And that still does not include Windows Professional ($ more) or Windows Ultimate ($$ more). Instead, it comes with feature crippled Windows home.
[engadget]

Related Posts