Apple Store 2.0 Launch With iPad Interactive Displays
To celebrate 10th year anniversary of first retail Apple Stores opening, today Apple launches store 2.0 with iPad interactive kiosks.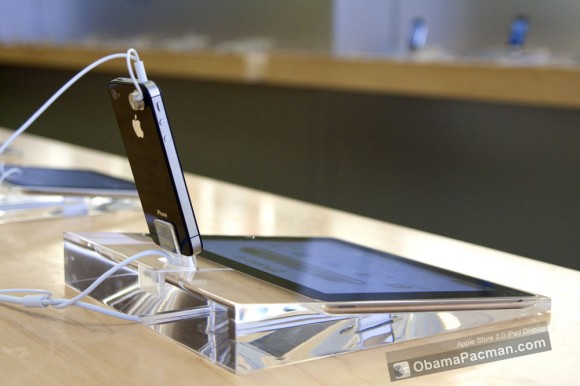 On May 19, 2001, at the time when Gateway stores were failing, Apple launched its first Apple Stores at Tysons Corner mall and Glendale mall. Ten years and over 300 stores later, the Apple retail store has revolutionized personal computer retail and technology support (with Genius Bar).
Apple Store iPad Kiosk
On May 22, 2011, Apple is about to change everything again, with the most expensive product and smooth interactive display signs in retail.
Each Apple product, from iPhone, iPad, iPod, and Mac now have their own dedicated detailed product display on an iPad 2.
The new iPad 2 displays provide:
Product details and comparison
Interactive price options for iPhone plans (video will be uploaded later)
Why a Mac for those new to Apple computers
Support options, such as the one year complementary support, One on One option, and Apple Care extended warranty
Specialist request right from the iPad. Apple Store employees will be able to see who is next in queue on their iPod touch Easy Pay point of sale system.
The iPad 2 kiosks are encased in acrylic and glued to the desk. The Apple Store interactive display is likely running a custom iOS app. The home button doesn't do anything for obvious reasons. Each is powered with a special black millimeter thin ribbon dock connector cable (see gallery).
Here's an iPad 2, selling 27″ iMac, selling iPhone: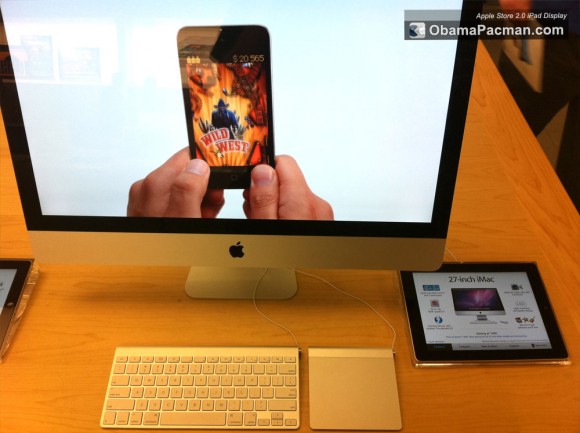 It's like Inception! Our suggestion to Cupertino: The iPhone needs to show an iPad to create an infinite loop. ;)

Related Posts