Apple iPhone, iPad Dominates Android in Business Adoption
Apple iPhone and iPad dominate the business market. Intermedia's iOS vs. Android case study on enterprise smartphone and tablet use shows.
Enterprise ActiveSync Usage, iOS vs. Android
iPhone is doomed against Android caveman club? Not exactly.
Intermedia compares its ActiveSync customers using iPhone, Android, Palm, and Windows 7 smartphones. (ActiveSync is commonly used in enterprise to sync email, calendar, contacts with Microsoft Exchange.)
Verdict? The sample population, consists of primarily
In small and medium sized businesses, choose iPhone and iPad.
Existing Smartphone and Tablet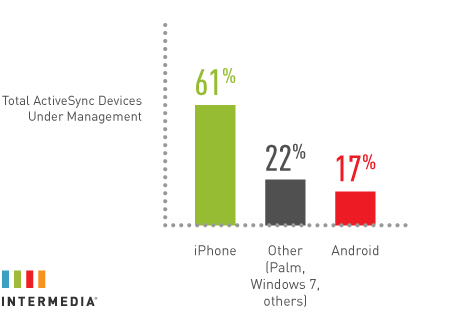 Total devices market share so far:
iPhone 61%
Other (Palm, Windows 7, etc) 22%
Android 17%
Total Tablet Enterprise Market Share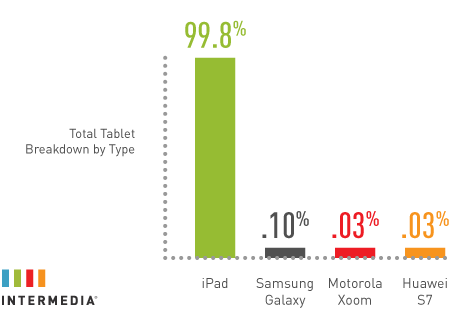 Tablet in enterprise market share so far:
iPad 99.8%
Samsung Galaxy 0.10%
Motorola Xoom 0.03%
Huawei S7 0.03%
New Smartphone and Tablet Activations
New smartphone activations in April 2011:
iPhone 64%
Android 33%
Other (Palm, Windows 7, etc) 3%
New tablet activations in April 2011:
iPad 99.68%
Samsung Galaxy 0.16%
Motorola Xoom 0.16%
With adoption rate is similar to existing iPhone market share, Android is not winning the ActiveSync using enterprise market anytime soon.
Apple iOS vs. Adware Android Enterprise Support
Original 2007 iPhone comes with Virtual Private Networks (VPN) support out of the box, and iPhone software is upgraded for ActiveSync support since 2008. In contrast, Android added basic support in 2009, however, due to lack of device hardware encryption, most Android devices still can't support secure mode today.
Apple devices also go beyond small and medium sized businesses of course.
Apple iOS devices also dominates the enterprise, as majority of Fortune 100 companies have adopted Apple devices such as the iPhone and iPad. Some corporations are even adopting or piloting iPod touch based point of sales (POS) system to replace legacy windows mobile based systems.
Looks like record iPhone sales will continue in the high end market for the foreseeable future, and that's great news for Apple and bad news for iPhone-doom-sayers.

Related Posts