Adobe Releases 3 iPad Photoshop Companion Apps
Adobe released three iPad apps today: Nav, Color Lava, and Eazel. See the conceptual demo videos.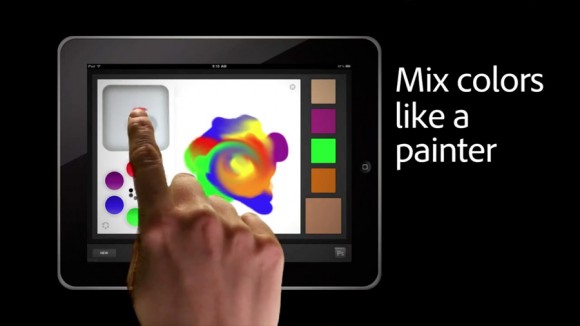 The recently announced Adobe iPad CS5 companion apps, made with Photoshop touch SDK is now on The App Store from Apple. Works with Adobe Photoshop CS5 version 12.0.4 or later. The 3 new Adobe iPad apps:
Adobe Nav Video
Select and make personal selection of Photoshop tools from your iPad
View up to 200 open Photoshop documents on your iPad screen
Make iPad Photoshop documents the active document in Photoshop CS5
Adobe Nav [App Store] $1.99
Adobe Color Lava Video
"Dab. Swirl. Mix. Create custom colors and color themes to use in Adobe Photoshop CS5."
Adobe Color Lava [App Store] $2.99
Adobe Eazel Video
"Your iPad is the canvas, your fingertip is the brush. Create beautiful paintings and instantly access them in Photoshop CS5."
Adobe Eazel [App Store] $4.99
Adobe iPad App Reviews
Although it's no iPad Photoshop, reviews seem to be decent for Adobe Nav, but the other apps are said to be more of a proof of concept. (There's is no color calibration feature). Considering it's v1.0 (and the Flash group doesn't have their hand on it), The Adobe apps might see some improvements soon.

Related Posts