White iPhone 4 Inventory Appears in Belgium
Photos of shipment of 20+ white iPhone 4 leaked from Belgium retailer.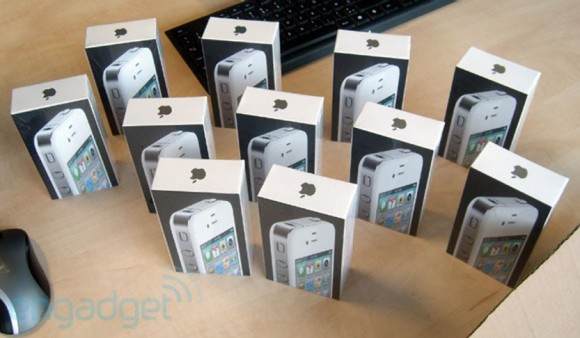 With iPhone 4 demand still strong, looks like Apple is about to finally launch the white iPhone 4 in the next few days. Over the weekend, white iPhone 4 was sold by mistake at Vodafone UK. In the U.S., Best Buy is said to be launching white iPhone 4 on April 27.
Belgium iPhone retailer Van Roey (webstore.be) showed that it got a sizable shipment of white iPhone 4 early, reports engadget. Prices:
Why so expensive? Belgium sells them with Apple's official factory iPhone unlock, which can be used with any SIM card and updated to any firmware without jailbreaking.
German iPhone 4 T-Mobile April 28 Launch
Mcrumors notes German T-Mobile site contains hidden graphics that show April 28 as iPhone 4 launch date.

Next generation iPhone 5 release date is still months away, expected in September.
Got a black iPhone 4? You can order DIY White iPhone 4 kit for under $20.

Related Posts