White iPhone 4 April 20 Order Page Appears Briefly
Latest round of White iPhone 4 rumors shows a live order page for April 20.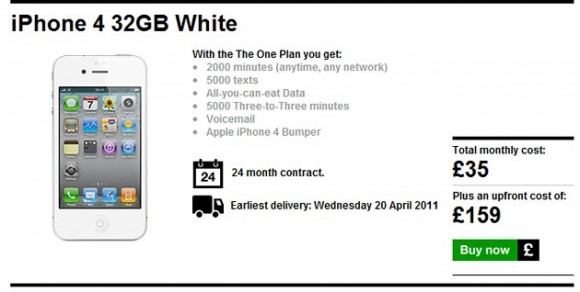 Is Apple finally ready to release white iPhone 4? Some say April 26, but perhaps it's coming on April 20?
UK carrier Three, which previously had a order page for White iPhone 4 WITHOUT any ability to order, briefly added "buy now" button for their white iPhone 4 page. Legit or hoax?
Engadget describes:
We managed to get all the way through to an order confirmation page, so if it's a mistake it's a very thoroughgoing one.
Originally announced by a Three partner that announced in a tweet: "I can't believe this isn't a mistake. 32GB iPhone 4 in WHITE has just gone live on 3Store" Later the same Three partner changed its story: "It would appear that White iPhone 4 was too good to be true."
White iPhone 4 order page is now removed. So is it link-baiting hoax or an order testing page leaked early?
Don't want to wait? You can order
DIY White iPhone 4 kit for under $20.

Related Posts