Watch Free Movies & TV-Shows on iPhone, iPad with Sony Crackle
Crackle for iOS is like an ad-supported free Hulu / Netflix service for select Sony movies and TV shows, including Seinfeld, Da Vinci Code, and Spider Man.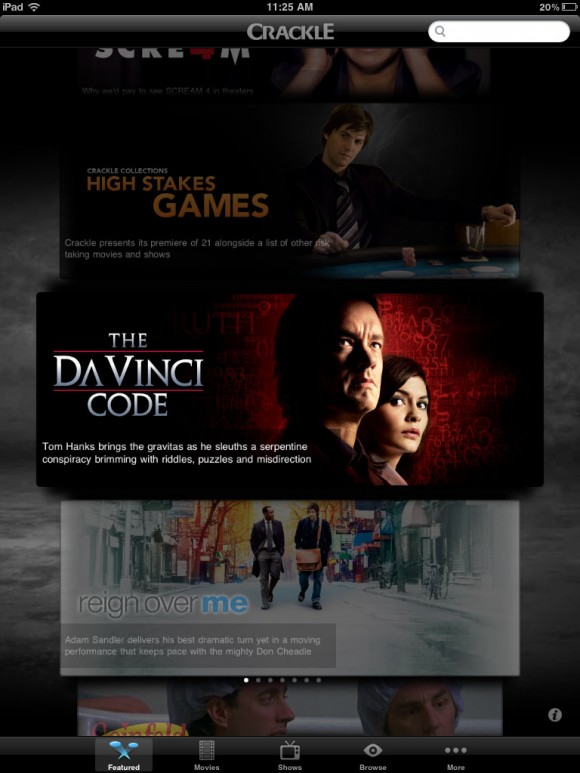 The content on Crackle is ad-supported (15-30 second ads). For movies, there is about a dozen ads. For TV shows, it's about 4 ads. Clicking on the ad brings up a web page about the product. Crackle features:
TV shows and movies can be viewed over mobile 3G network or WiFi
PG to R-rated movies, from oldies to blockbuster films
Add videos to queue to watch later
Some videos have buy on iTunes link
US only, limited content for Canada, UK, and Australia
iPhone, iPod touch, and iPad with iOS 4.0 or later
Listed movies include: Arlington Road, Da Vinci Code, Bram Stoker's Dracula, El Mariachi, A Few Good Men, Finding Graceland, The Gods Must Be Crazy II, Ghostbusters, Spider Man 1, 2, 3, The Three Stooges. Some movies such as Bad Boys, only contain clips.
Download Crackle [App Store], free for iPad, iPhone, iPod touch.
No word on if Sony's product placement movie Facebook movie, The Social Network will be available.

Related Posts