TrackerGate: Apple Tracks iPhone Location in Consolidated.db
TrackerGate! Security researchers discover that Apple devices are keeping a long list of locations and time stamps since iOS 4, introduced last year. Is Apple evil?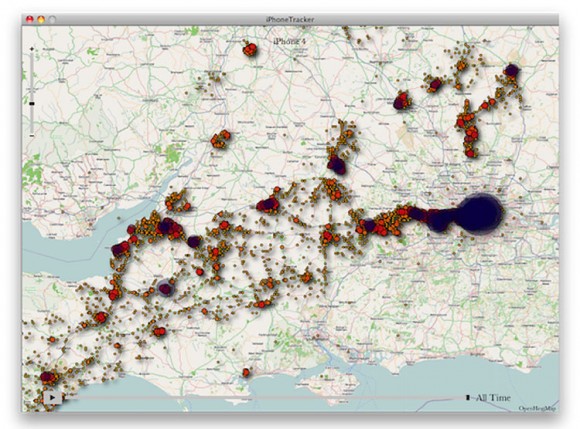 Apple Tracks iPhone & iPad with Consolidated.db
The list of locations and time stamps are kept on the device and iTunes backup, in unencrypted forms, with serious privacy implications, Alasdair Allan and Pete Warden reports.
The data is kept on Consolidated.db, and may contain almost one year's worth of location data. However, the recording interval of data is not regular.
ObamaPacman is guessing that iOS devices only writes an entry WHEN user-approved location services enabled is being used. Not some kind of Apple tracking user conspiracy.
Video: Apple iPhone Tracker Location Data Graphed
Two short videos of the data graphed with the OpenStreetMap project, displayed with iPhoneTracker software:
The security researchers note the data in Consolidated.db is NOT sent to Apple:
"There's no evidence that it's being transmitted beyond your device and any machines you sync it with.
To see the location data. Download iPhone Tracker from Pete Warden's site.
UPDATE: iPhone Consolidated.db REALITY CHECK, explained by other professionals.

Related Posts