ThinkGeek Makes iPhone Compatible Miniature Apple Store Toy (Bonus: Lightsaber Popsicle)!
The all new, insanely great Apple Store toy from ThinkGeek. Video. (Bonus, Star Wars Lightsaber Popsicles!)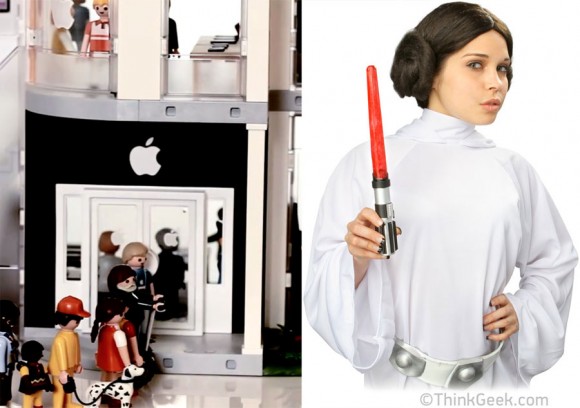 Video: Miniature Apple Store Action Toy
ThinkGeek makes spoof iPad walkthrough video to promote its new Apple Store action toy. The mini Apple Store contains miniature iPad, iPhone, iMac, Genius Bar, and even a Steve Jobs Keynote with optional iPhone 4 as presentation display! Wait, no MacBook Air balloon?
It even has an optional line pack with Segway riding Steve Woz to complete the experience!
The mini Apple Store is priced at $49.99 – $179.99. Availability is "One more thing" instead of "Available." (That means this April Fools toy isn't going to be available anytime soon).
Video: Star Wars Lightsaber Popsicle
Saber-lickin' good… It's a trap?
ThinkGeek also has Star Wars Lightsaber Popsicle for sale! Availability? "This is not the stock you're looking for." The Star Wars ice cream songs are available to download on the product page though (Imperial March 24 seconds, Star Wars ice truck theme 14 seconds).
ThinkGeek April Fools
The miniature Apple Store and the Star Wars Lightsaber Popsicle are both fiction. But there is always hope. Some fictional products from ThinkGeek do become real products due to popular demand, example:
Check out past ThinkGeek April Fools products here.

Related Posts