RIM BlackBerry PlayBook Tablet: 3 Generations of Vaporware Upgrades!
FAIL: how RIM / BlackBerry "ships" 3 revisions of PlayBook tablet pc vaporware.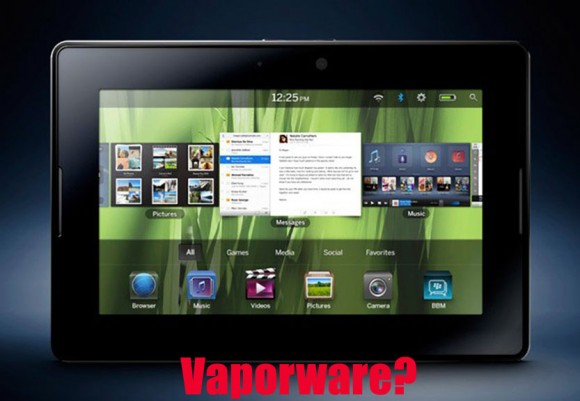 RIM BlackBerry PlayBook Tablet Vaporware
Since 2007, Apple iPhone already took the high end phone business from Palm, Nokia, and RIM. So how would RIM fight back? It seems that RIM is going to abandon Blackberry phone users to chase after the iPad. How well is that going?
Loop Insight recently notes:
"In September 2010 RIM announced the PlayBook, an iPad competitor running the BlackBerry OS. That hasn't shipped yet.

In January 2011 RIM announced the PlayBook 4G, upping the ante on its competition by including the next generation data connection. That hasn't shipped yet.

In February 2011, RIM outdid itself and announced the PlayBook 4G LTE, HSPA+ and Mobile WiMAX models. They haven't shipped."
Here's an example of how delusional RIM CEO Jim Balsillie is. In a call with analysts in December, Balsillie compared his company's fictional tablet to iPad:
"So, I think the PlayBook clearly sets the bar WAY higher on performance, and you're going to see more." – RIM CEO
Maybe Balsillie's employees lied to him about the existence of Playbook and its performance? In reality, the RIM device is so real they haven't even release the battery life figures yet. Yes, we know about their PR fluff of "10 hours battery life," the Playbook tablet site still DOES NOT LIST actual battery life. (In addition, RIM executives refuse to answer questions on if the power hungry PlayBook OS will make it to BlackBerry phones.)
Real Apple iPad 2 vs. RIM PlayBook Vaporware
In contrast, Apple demoed the iPad in January 2010, and shipped the revolutionary tablet in April 2010. After shipping over 15 million iPad (more than all other tablets in the last decade combined) in nine months of 2010, Apple just shipped the new iPad 2 last month to high demands.
No wonder RIM's company valuation has decreased more than half in recent years. Perhaps RIM management doesn't realize that vaporware strategy stopped working even for Microsoft against decade of Apple wins.
Will RIM ship their product sometime this year? After RIM's 3 vaporware upgrades, Will the PlayBook become the Duke Nukem Forever of iPad-wanna-bee tablets? We'll find out later.

Related Posts