Visit Paris on Your iPad + iPhone, with Fotopedia App [review]
Paris in your pocket and on iPad, as coffee table photo book + intuitive trip planner! Quick review.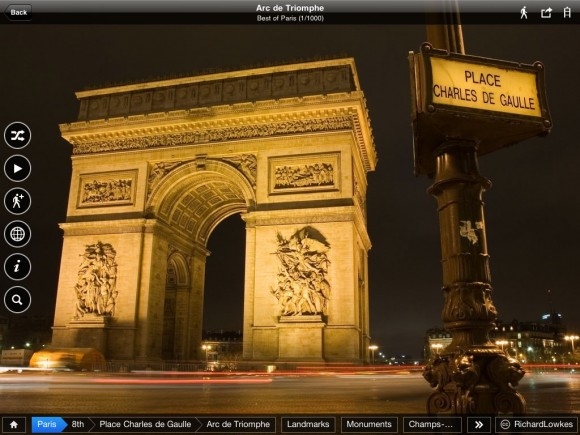 Fotopedia Paris for iPad, iPhone, and iPod touch
Fotopedia Paris is "A Paris vacation on your iPhone or iPad." The iOS App contains over 4000 photos from around Paris, from Eiffel Tower, Louvre, to Versailles. The photos can be viewed as full screen magazine in slideshow, manual, or random mode. You can also scroll through thumbnails with the upper right button.
The iPad App has 3 levels of description details: photo only, with name and tags (most images here are shown in this mode), or click the i for detailed info. The ones with CC (creative commons) rights can be easily shared or used as iPad wallpaper.
Trip Planning
Each photo in the Fotopedia iOS App has a GPS tag, so if you want to visit it, just add it to your trip list. You can then see it on an "interactive" map to plan a route! (Cool!)
The map view allows filtering of locations by your trip, or by any category. LOL, one category is Starbucks, just in case Americans need 'good' coffee in Paris, the city of many cafes.
What Needs Improvement
Requires data connection. Watch your data usage if you are using 3G with limited amount of data.
Kludge: If you are traveling internationally and don't have a data plan or unlocked iPhone, you can try to pre-load the map on WiFi and don't use other apps. It'll be better if the App can cache maps for offline use.
How do you transfer your trip list to iPhone if you planned your trip on iPad? Doesn't seem to be a way.
It would be nice to have Airplay.
Fotopedia Business Plan
Fotopedia CEO Jean-Marie Hullot, worked on Macintosh, NeXT, and Mac OS X. He was the CTO of Application Division at Apple from 2001 to 2005. The business plan for Fotopedia is to create a wikipedia of photos. That means crowd-sourcing, where people submit page "that matter to them" and others can submit photos. Photo has to be high enough quality to be approved.
Interesting concept. There are currently 4 Fotopedia apps in the App Store. All are universal apps, designed for iPad, iPhone, and iPod touch. Two are free. Others with content by specific photographers have nominal fees:

Related Posts