Real Racing 2 HD Adds 1080P TV Out to iPad 2
Real Racing 2 HD is the first iOS game to add full 1080P HD tv output! See video demo.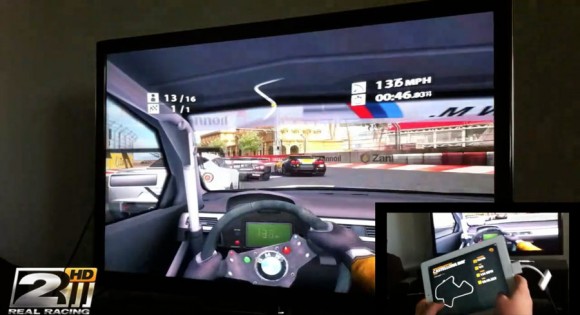 Video: Real Racing 2 HD 1080P iPad 2 TV Out
The "best racing game in the App Store today" (IGN) just got better. Australian game studio Firemint just released the new update to Real Racing 2 HD with full iPad 2 1080p TV output (1920-by-1080) without black borders. The game runs at solid 30FPS, just like the consoles.
It actually bests consoles because Real Racing HD runs the iPad 2 game in DUAL display mode!
When connected to a TV, the game transitions the display seemlessly, sending the primary display to the TV at 1080P, while iPad 2 displays track map and real-time racing telemetry. If the device is disconnected, the primary display goes back to iPad, and you can continue to play.
Download Real Racing 2 HD at [App Store, $9.99]. Get the free update if you already owns it. To output the full HDMI signal you'll need the $39 Apple Digital AV Adapter and iPad 2. Players with the original iPad can output gameplay to TV at 720P.
Real Racing 2 HD has 10+ hour campaign / driver mode, and multiplayer support with 16 players over local Wi-Fi or online with both players of iPhone + iPod touch with Real Racing 2 [App Store, $6.99] and iPad with Real Racing 2 HD.
via 9to5mac

Related Posts