Paul Allen Spreads Microsoft Myths
FAIL: After decades of being a bitter billionaire, Microsoft co-founder Paul Allen tries to rewrite personal computer history with his latest PR efforts.
Video: Paul Allen 60 Minutes Interview on Bill Gates
In the "Bill Gates Hell" interview with 60 Minutes' Lesley Stahl to promote his book, "Idea Man," Microsoft co-founder Paul Allen tries to spread self-favoring myths.
Here's the ObamaPacman analysis on some of the myths spewed in the interview and the confirmed Microsoft vaporware business plan.
Microsoft Business Plan: We Sell Products We Don't Have
Paul Allen confirms that ever since the first day, Microsoft's business plan is to lie to its potential customers. Paul even openly admits both he and Bill Gates both duped their potential client:
"So we called up the company that made [Altair 8800], and said we can demonstrate this software for you, very quickly, would you be interested."
Answering the question from Lesley Stahl that: "did you have software? Paul Allen: "No. No, we had nothing."
It is then said that Paul Allen and Bill Gates ended up spending 8 weeks writing their demo program on paper that calculates 2+2 = 4 "flawlessly." Note that wikipedia entry for Altair 8800 gave a conflicting report on first run of Paul Allen's program:
"The first time it was run, it displayed "Altair Basic," then crashed."
Myth: Altair 8800 is Start of PC Revolution
MYTH: Paul Allen got the idea to start the personal computer industry in 1974 when he saw Altair 8800 on a magazine cover, the interview claimed.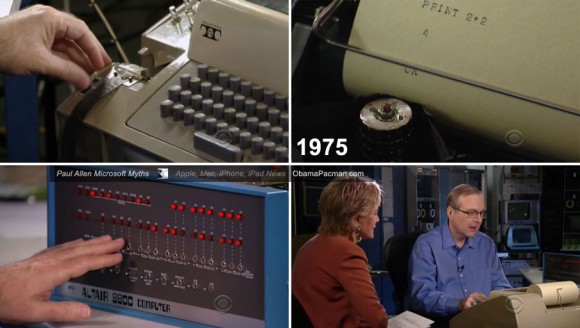 FACT: The January 1975 issue of Popular Electronics, which Paul Allen bought at Harvard Square, was published in DECEMBER 1974, but Altair 8800 is not available until 1975. Altair is basically an electronic typewriter capable of running only simple paper punch card programs. In contrast, as many would remember, it is actually Apple that started the personal computer revolution.
2 years after Paul Allen wrote his programs on paper tapes, Apple introduced the revolutionary Apple II (image) in 1977. Apple II is the first successful ready-to-use personal computer. That line of Apple computer later became a billion dollar business for the Cupertino company.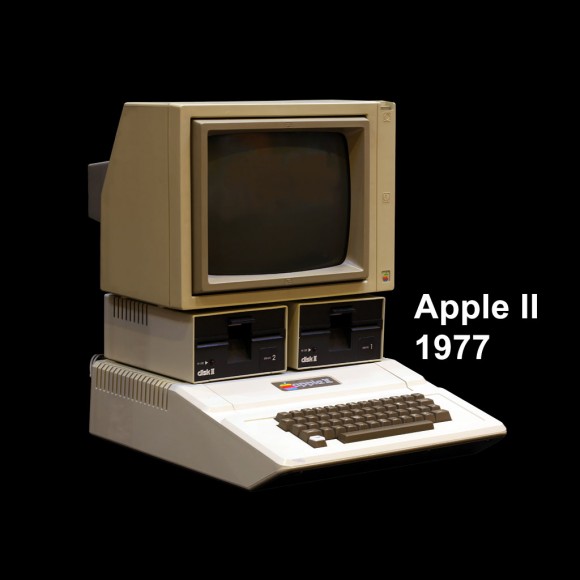 Note that the Apple II is not an electronic typewriter with rolls of toilet paper programs. Instead, the first ready to use computer, by Apple, uses magnetic storage / floppy drives and has a real display.
In 1984, Apple Macintosh revolutionized the computer industry again, by popularizing GUI and mouse.
[Sarcasm] Surely that is the result of Paul Allen's rudimentary paper code. [/Sarcasm]
Myth: Microsoft Altair 8800 Software In "High Demand"
MYTH: After writing software for Altair 8800, the video describes: "almost over night people started to buy these computers, and [Microsoft's] software was in high demand."
FACT: By today's standards, very few Altair 8800 were sold. Company claims "over 5,000″ sold by August 1975. That got Microsoft some seed money, but Microsoft didn't stand out from the pack until its more shady dealings:
Microsoft lied to IBM to be gifted the PC monopoly (see next section)
Microsoft started writing software for Apple platform, accessing the new unreleased Mac OS, then stole Apple's intellectual property by aping after Mac OS. Without Apple's R&D costs, Redmond was able to sell a crappy knockoff called Windows for less.
Microsoft used anti-competitive measures to form and maintain its software monopoly (later resulted in the US government's Monopoly lawsuit against Microsoft)
Myth: Microsoft Developed IBM Operating System
MYTH: in the video, it is said that Microsoft developed an operating system for IBM in 1980.
FACT: In this case, Microsoft lied again to IBM (similar to how it lies to get the Altair job). Except this time, Microsoft didn't even write the code. After bluffing to get the IBM contract (and probably playing the Big Blue's fear of Apple), Microsoft actually bought QDOS / 86-DOS, which was renamed MS-DOS.
Microsoft also used illegal tactics to drive out other forms of DOS. MS ended up paying $150 million (some say more) to Caldera / SCO. (Years later, Microsoft also had to "invest" $150 million in Apple to settle Apple's lawsuit that Microsoft stole the Mac OS look and feel.)
Latest Accomplishments of Paul Allen
So, what's Allen doing now, besides spreading misinformation? Being a patent troll.
After leaving MS, the only successful company he was a part of (but founded on deceptions), Paul Allen tried to start numerous companies. Over three decades, none were successful. But in the process of running concepts into the ground, Allen's Interval Research collected over 300 patents.
The problem is that those patents are mostly generic ideas without a specific way to implement them, which leads to (surprise) no commercially viable products. Not a big surprise to the tech geeks, because Interval Research co-founder David Liddle was a former researcher at Xerox, a company where Mike Daisey says, "where ideas go to die."
Apparently, Paul Allen gave up hope of making even one useful product from his over 300 vague technology patents.
In August 2010, Paul Allen's Interval Research holding company sued everybody but Microsoft (Allen is still major stock holder) and Amazon (where Allen's real estate company is building Amazon's new corporate campus). The lawsuit was against 11 innovative, successful "companies": Apple, Facebook, Google, AOL, Yahoo, Netflix, eBay, Staples, Office Depot, Office Max, and YouTube.
It seems that Allen hopes that being a patent troll might finally get him his second business 'hit' out of his string of failures. The problem is, Microsoft co-founder Paul Allen is so clueless he even sued YouTube. Maybe Allen didn't realize that Google bought the one-year-old startup YouTube in 2006 after Google's YouTube knockoff failed.

Related Posts