NBA Teams Use iPad As Real Playbook Tablet
Slam dunk! NBA teams are using the iPad for scouting and player development. More than half the teams are either using the Apple tablet or considering it.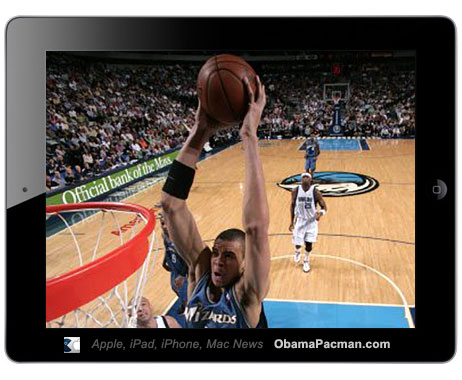 We've seen iPad in enterprise, iPad in government, and iPad in education. Now, iPad meets professional sports. The real Playbook tablet? There's an app for that.
iPad NBA Slam Dunk
Slam Online reports in 'iPad is NBA's New Best Friend' on how various NBA teams are using the Apple iPad to their advantage. Over half the NBA teams are either using the iPad or considering it for next season.
10 NBA teams (Wizards, Timberwolves, Hawks, Hornets, and Rockets + 5 more) are already using iPads, with 6 more teams are considering using the iPad next season.
Washington Wizards is first known NBA team to use the Apple tablet for team operations. Assistant coach Ryan Saunders describes their iPad use:
"We use it for everything. We put our whole playbook and rulebook on it… Our whole calendar is mapped out. Guys can know when buses are leaving, when planes are leaving."
Minnesota Timberwolves provides players with expanded edit of opposing team game play on their iPads. Being lighter, iPad has an advantage over laptops:
"A lot of times guys can wake up, or on the airplane they can open their iPad, and see what's coming up next in terms of personnel."
Houston Rockets describes players are impressed with the Apple tablet:
"They think it's amazing that you can give them all their minutes from the last 20 games and have it ready for them in less than an hour, and put it on an iPad."
New Orleans Hornets uses 20-30 iPads. The team gets each night's game on iPads, before players leave the locker room:
"As an organization, we try to use what's best out there… We look at costs, but we're trying to improve and make things more efficient.
Besides using Apple's tablet for more efficient scouting of college players, Director of Basketball Operations for Atlanta Hawks, Mike McNeive:
"It's gotten to the point where I don't even bring a pen and a paper to the game anymore … I just make sure my iPad is charged 100 percent."
Wow, iPad a slam dunk. The actual 10 hour iPad battery life for video, and iPad speed probably played a role the Apple tablet adoption too.
slamonline via cultofmac

Related Posts