Cool: Wedding Anniversary Celebration with Mac Finder Conversation Art
Can the Apple computer Finder help celebrate an anniversary? Yes, if you are a Mac creative!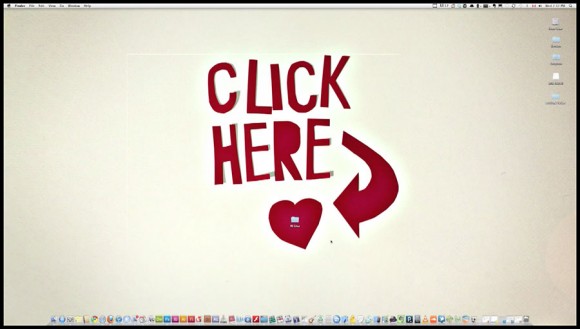 Video: Anniversary Celebration with Mac Finder Art
Video (via giz) created by Sean Ohlenkamp, who described:
"I placed this folder on my wife's desktop to celebrate our third anniversary."
The folders inside folders is done using Columns view of Mac OS X, a great way to navigate the finder on Apple computers for over a decade.
Stop Motion Video: Bookcase Flamenco
Sean and his Mrs. also made this great stop motion video:
(Video) Music is 'Tamacun' by Rodrigo y Gabriela [itunes link]
Sean Ohlenkamp is known for his creative direction / art direction for Nissan, San Diego Zoo, ART DIRECTION / DESIGN / PROGRAMMING / ANIMATION for the funny PalinAsPresident.us (flash) humor page, and more. Check out more of Sean's work on ohkamp.com and on his blog.
Like this? Check out ObamaPacman's Apple Arts section.

Related Posts