iPhone 4 Racing Gaming Controller Wheel
iPhone controller wheel accessory made for racing games.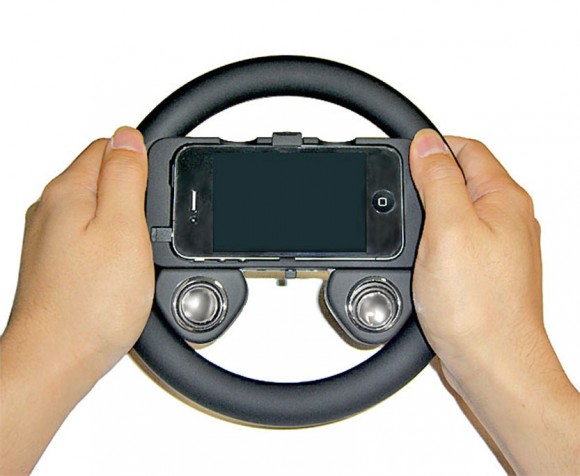 iPhone 4 Racing Game Steering Wheel Peripheral
This iPhone 4 gaming controller (more like a case) is like a wii wheel, features:
Textured silicone coating
Mount iPhone 4 through 3.5mm earphone jack (same way Square is mounted), but the connector is for sound only.
The two round silver balls are not analogue sticks. They are speakers. It requires optional Nokia BL-5C battery.
Headphone jack output near power switch
Charges through USB (through the headphone port? WTF?)
Measures 19.2cm × 19.2cm × 4cm, (7.6″ x 7.6″ x 1.6″), quadruples depth of iPhone 4, and about two to three inches shorter than height of MacBook Pro.
All iOS games should work, because it's only using the headphone jack for audio output. ObamaPacman believes users should achieve better control due to its larger size (same amount of movement on a device with larger radius = smaller angel of movement = more precision control), if it's not too heavy.
Price of the iPhone 4 wheel controller? $19 (1,599 yen) before shipping.
Japanese site donya.jp (English Translation) via giz

Related Posts