iPad Subscription Doomed? Rupert Murdoch's Publications Beat Angry Birds
Some say Apple's App Store subscription service is doomed due to its consumer friendly features. Rupert Murdoch's The Daily and New York Post show them wrong.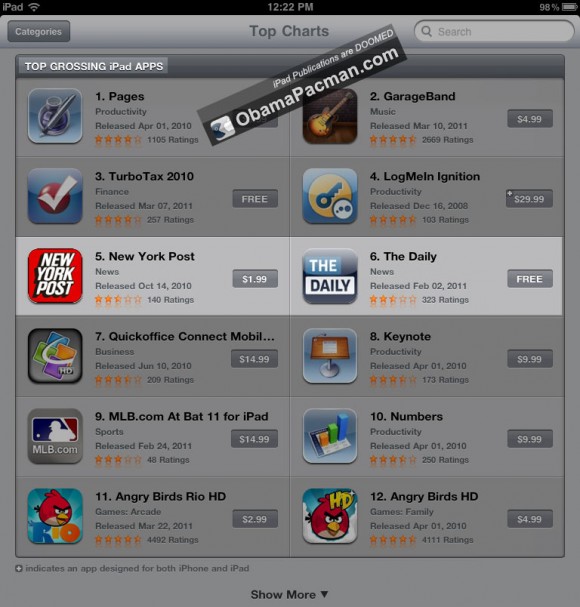 Rupert Murdoch's iPad Publications Beats Angry Birds
Apple already revolutionized the music industry and mobile software business within the last decade. Can Apple revolutionize the publishing industry?
In January we reported that New York Post is cheaper on iPad. Rupert Murdoch has since then launched the iPad exclusive news magazine The Daily [App Store]. From the look of these App Store publications, something is going right on the iPad.
Both The Daily and New York Post are currently on Apple's top ten list of TOP GROSSING iPad Apps as of today at 12:22 EST, beating out App Store success Angry Birds, MLB at bat, Apple Keynote, Apple Numbers, and QuickOffice. Wait, iPad users are willing to pay for publications that charge a reasonable price? Who would have knew?
Steve Jobs must be totally against the publishing industry from succeeding in the App Store.

Related Posts