iPad 2 Inventory Demand vs. Motorola Xoom Sales
Apple iPad 2 sales vs. Motorola Xoom sales, Best Buy inventory example.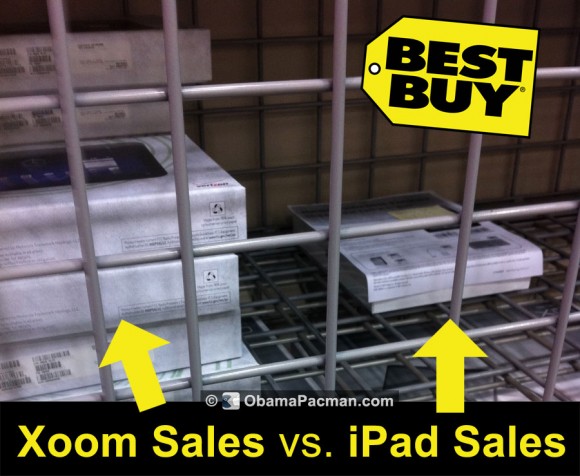 Not only Android is too slow for gaming such as gaming, they also suffer slow sales. One month after Apple's iPad 2 launch, the Apple tablet is is still selling out at just every retailer like hotcakes. Here is an example of Apple tablet demand at a Best Buy store. The only iPad 2 left in the store has a name on it. That means it's already partly paid for as a pre-order.
In strong contrast, the huge stock of Android Xoom tablet has any names on them nor are people buying them. Situation is quite similar to Apple iPod vs. Microsoft Zune. Xoom even sounds similar to Zune.
Also, the iPad box is about 1/3 the size of Xoom box.
iPad 2 vs. Slow Xoom Sales: Deutsche Bank Estimate
On April 6, Deutsche Bank puts 6 weeks of the 'best' Android tablet Xoom sales (released February 24) at a total of 100,000. Much slower than sales of even the original Apple iPad.
In 2010, Apple sold over 300,000 of original iPad on the first day. Apple sold over 15 million iPad in 9 months of 2010.
The iPad 2 is by all measures an even larger success, with it sold out everywhere. (Here's how you can find iPad 2 inventory). Some estimate double or triple the demand this year for the Apple tablet.
Just how much strong the demand for iPad 2 are? We'll let you know when Apple releases Q2 FY11 earnings report release on Wednesday, April 20, 2011.

Related Posts