ESPN App Adds iPhone, iPod touch, iPad Live Video Streaming [Demo]
You can now watch NBA Playoffs, Major League Baseball, Masters Golf Tournament, NFL games, and other ESPN TV programs on your iPhone, iPod touch, and iPad. (See the video).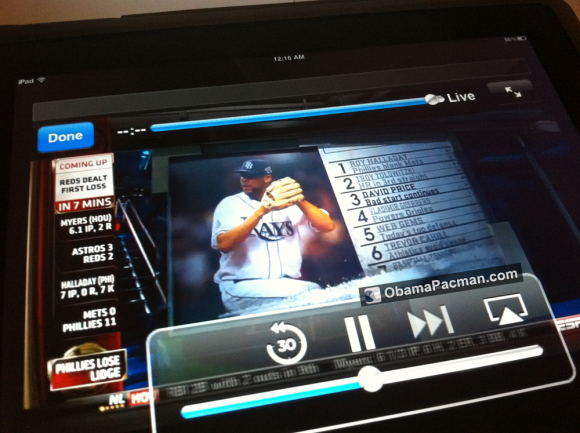 ESPN TV Game Video Streaming for iPhone, iPod touch, and iPad
Carry ESPN in your pocket. Reported to work over WiFi and 3G!
WatchESPN [itunes link] is a new, free app made for iPhone and iPod touch.
How well does WatchESPN work on the iPad? Although it is not an universal app, the video quality is much better than expected. With sharp text and smooth video, it is totally enjoyable to use on iPad and iPad 2. And it even has AirPlay!
Video: WatchESPN Demo
Here's our video quality demo of WatchESPN iPad app, with New York Yankees vs Twins game highlights.
The video shows stats (text), video, and mostly x2 mode with brief x1 mode around 1:51. See the clarity of text on iPad at 2:29. (Note the iPad volume was set too low during recording thus there is some noise from bumping up the audio.)
WatchESPN Availability
WatchESPN is US only and provides live streaming of ESPN, ESPN2, ESPNU and ESPN3 to Time Warner Cable, Verizon FiOS TV, Bright House Networks subscribers. You will get 4 hours of demo without creating an account.
The ESPN app is not for Comcast, Cox, Cablevision, although some of them got their own video streaming app.
Download to Watch ESPN Live on iOS
Watch ESPN [itunes link] for iPhone, iPod touch, and iPad
You might also be able to stream ESPN and live TV on these alternative Cable TV streaming apps:
There is NO ESPN App video streaming for the Android market.

Related Posts