Digits Calculator for iPhone + iPad
Highly rated calculator app for iPad, iPhone, and iPod touch on sale today.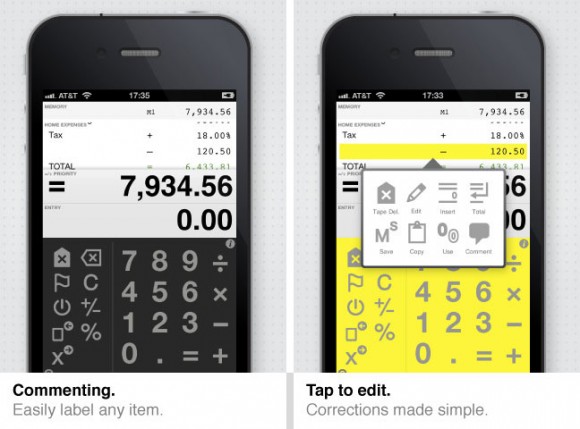 Best Calculator App for iPad, iPhone, & iPod touch
Digits Calculator is an App Store staff favorite, and probably would take the title of the best calculator app. If you use Numbers / Excel / spreadsheet for entering expenses and basic calculations and labeling, then this might be for you. Features:
Editable virtual paper tape shows each entry
Can label each entry with text (like a basic spreadsheet!)
Email yourself to import into Numbers or Excel
Send calculations to colleague
Keep history in terms of "series of short calculations available for later reference" (multi document / calculator tape)
Wireless printing with AirPrint
and more
Here's what iPhone fan Conan O'Brien said about it:
"Just got the new iPad. This amazing device has already revolutionized the way I use a calculator"
Download Digits Calculator [itunes link] Universal app for iPhone, iPod touch, and iPad. It is free today for tax day.
This year the US tax deadline isn't on the usual April 15, instead, it's extended to April 18! But get that shat done today or this weekend folks.

Related Posts