Disney 'Lemonade Mouth' Cast Mini Flash Mob Dance at Apple Store
Los Angeles Apple Store 'The Grove' recently got a surprise flash mob from the cast of Disney's Lemonade Mouth over Easter Weekend.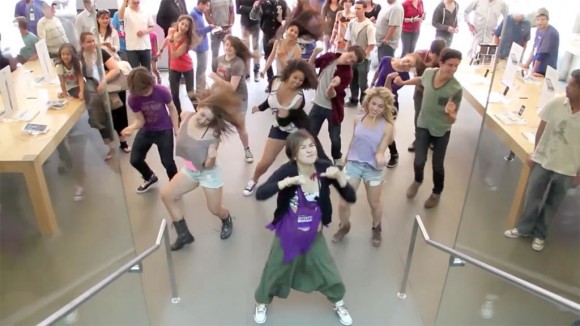 Video: Lemonade Mouth Dances at Apple Store
Lyrics include:
"Gonna turn the world into your dance floor, Determinate…"
The song is "Determinate" from the highly rated made for TV movie Lemonade Mouth [itunes link] that premiered on April 15, 2011. The Apple Store flash mob consists of Chris Brochu and iPhone 4 using Hayley Kiyoko and 15 of their friends. Unfortunately, due to the large group of people involved, they were gently ushered out toward the end of the song.
Apple Store typically allows individuals and small groups to record themselves singing, dancing, and lip syncing in the store. For example, the Apple Store lip sync kid, who performed to Black Eyed Peas and Lady Gaga at the New York City 5th Avenue Apple Store.
Apple Store Video Pioneer
So, who started the trend? IfoAppleStore describes that: "The in-store video craze generally started with Justine in 2006."
Here's the iJustine 'Apple Store tour 2008′ video compilation:
YouTub Video via tuaw

Related Posts