Buy Original iPad Wifi + 3G from $299 (Updated)
Special deals: Like-new, first generation Apple refurbished iPad Wifi and unlocked iPad with Wifi and 3G available from $349 to $659.
Update, August: Starts at $299!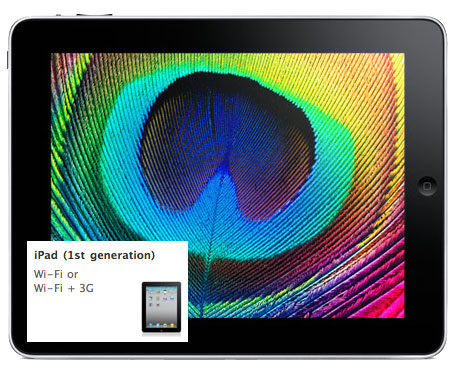 Buy discounted first generation iPad from Apple. All models currently available (some models often sell out quickly so grab them now), currently ships in 1-3 days:
What's Apple Refurb?
Some might ask: What's an Apple refurbished iPad? Is it any good?
A: Apple refurb products (Mac, iPad, iPod, etc.) are sold at a discount in refurb-marked white or brown box instead of retail box.
In contrast to most manufacturer refurbs that have only limited warranty (30 to 90 days) and often with blemish, the Apple refurbished products look new, and has same warranty as new. (1 year industry leading Apple warranty coverage of parts and labor against defects). Once it's out of the box, there is no way to tell it apart from a new product.

Related Posts