Bowling Ball Proof Your iPad 2 with G-Form Case
G-Form demonstrates its protective soft iPad case by dropping 12-pound bowling ball onto it.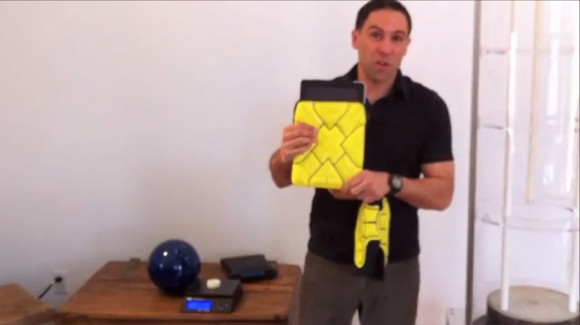 Video: iPad 2 Case Meets Bowling Ball Drop Test
Would a rigid iPad case protect it better than the soft G-form case? Not if it's made with a gel that hardens upon impact. Video shows this soft case protects against three foot drop of 12 pound bowling ball. The case weighs 0.46 lbs. Comes in yellow or black. Pre-order for $59.95 at G-Form. May 1 release date. Suppose to protect edge / side impact too. They also make bicycling and sports protection pads.
Made with similar material as the hammer time stopping FastMac impact gel sleeve for Mac and iPad ($40).

Related Posts