Black Eyed Peas 'The Time' (Dirty Bit) RIM Playbook Product Placement Fail
'The Time' (Dirty Bit) music video by Black Eyed Peas features product placement fail of iPad-wannabe Blackberry Playbook.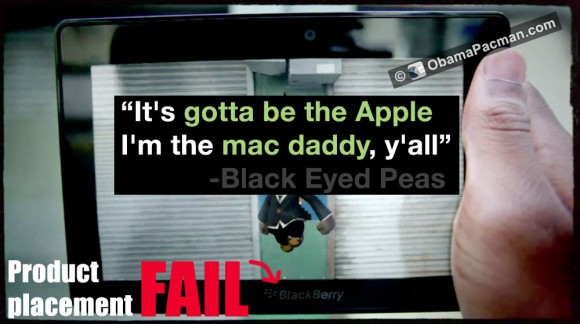 Video: Black Eyed Peas, The Time (Dirty Bit)
BlackBerry Playbook Product Placement FAIL
WHILE SHOWING A BLACKBERRY PLAYBOOK TABLET, Black Eyed Peas sings from 03:18 to 03:22:
"It's gotta be the Apple
I'm the mac daddy, y'all"
(Note they darkened the BlackBerry logo during this portion of the lyrics).
The video was uploaded to YouTube on November 2010. That means RIM paid for product placement of BlackBerry Playbook, which doesn't exist for half a year (except for vaporware hype), while the lyrics recommends Apple.
Since then, RIM has gone through 3 generations of PlayBook vaporware. In contrast, Apple has shipped the second generation of the very real and very popular iPad 2 to long lines.
RIM, you are so two-thousand and late! Maybe next time the RIM suits need to actually listen to the song lyrics, such as "It's gotta be the Apple" before blindly bidding for paid music video product placement?
Music, song #1 from Album: The Beginning [itunes link].
And notice how none of the Black Eyed Peas actually held the RIM Playbook in the video. They had to use body double cube-heads for that. Surely says a lot about their confidence in such a product.

Related Posts