Best Buy, Target, Toys R Us Advertises iPad 2 Availability on April 17
Major national iPad 2 U.S. retailers Best Buy + Target advertise their iPad 2 availability on their April 17 Sunday flyer!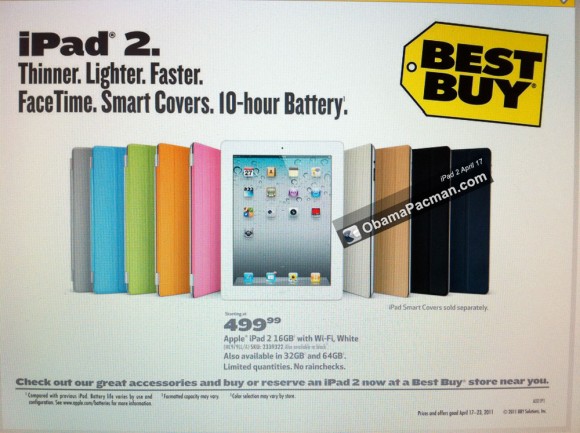 Remember those iPad 2 inventory hold at Best Buy and Target? (ObamaPacman even posted a tip on how to get them at Target even with the hold!) It turned out that Best Buy and Target were saving up their iPad 2 inventory for this Sunday.
Best Buy iPad 2 Availability April 17 Week
Best Buy has iPad 2 on its Sunday flyer front page. Best Buy internal order process highlights:
Limited quantities. Three (3) iPad 2 per store minimum.
Reserve order fulfillment is still the priority for any iPad 2 inventory that stores get.
For stores with iPad 2 inventory, stores will use the reserve ticket once all inventory is gone. (Not rain checks).
Employee purchases are now allowed.
Don't send customers to other stores, even if it looks like they have inventory, since any inventory is most likely for reserves.
Don't hold units for (reserved) customers greater than 48 hours.
Trivia: Best Buy classifies iPad as computer.
Where Can I Buy An iPad 2
If you are going to get in iPad 2 lines at your local Best Buy or Target, go early! Note: newest iPad 2 retailer Toys R US will also start selling the Apple tablet starting April 17.
Judging from the strong iPad 2 demand, availability of Apple's tablet at these national retailers is likely to sell out at these stores minutes from store opening. If you don't find one, you can find an iPad 2 here using ObamaPacman's:

Related Posts