Best Buy: iPad 2 Sales Freeze for "Upcoming Promotion"
Best Buy confirms iPad 2 sales freeze, no new Apple tablet for walk-in customers at this time.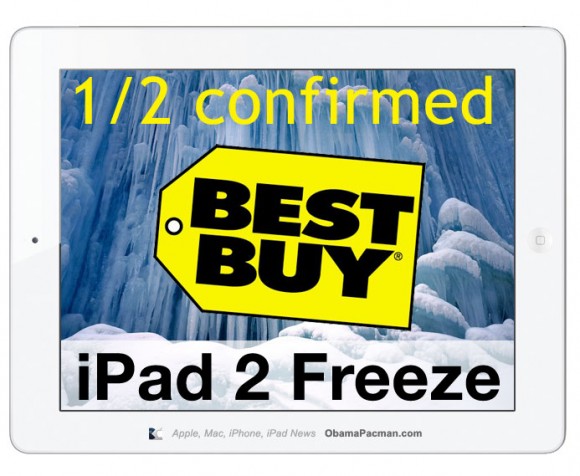 Best Buy iPad 2 Sales Freeze
Seems that half of the rumored "Apple Pulls iPad 2 from Best Buy" story is confirmed, but the other half is debunked.
Macnn reports that they got a statement from Best Buy PR manager:
"Best Buy continues to receive iPad 2 inventory from Apple on a regular basis… As we've said previously, we are fulfilling customer reservations first. Our stores have been asked to temporarily hold non-reserved iPad 2 inventory for an upcoming promotion. This is a customary practice for us when there are supply constraints. Best Buy enjoys a great partnership with Apple, and we're delighted by customer response to iPad 2."
Reports are that Best Buy freeze of walk-in iPad 2 sales is said to have started last Thursdays, and stores are withholding inventory to only fulfill pre-orders at this time.
Apple Acting Tim Cook Email
Crunchgear reports that Apple acting CEO Tim Cook responded to the rumor:
My understanding is most of their stores sold all of their initial supply on the first night of the launch and the balance were out by the following day. I am not aware of any units being held.

Tim
So Apple is not responsible for the Best Buy iPad 2 sales freeze. Now, what exactly would BB be saving their iPad 2 inventory for? Got any guesses? The most expensive domino fall in the world?

Related Posts