Best Buy iPad 2 Internal Hold Memo: Photo
Secret Best Buy employee news on iPad 2 internal hold, captured by iPhone 4.
Best Buy iPad 2 Internal Hold Message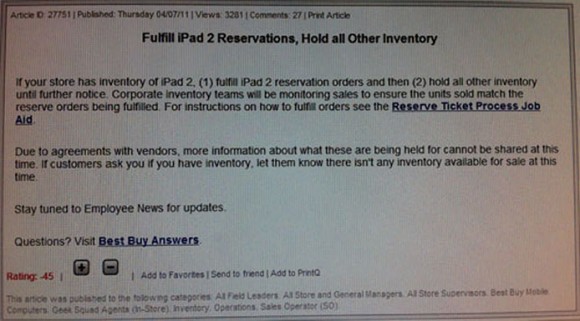 Best Buy internal secret memo telling employees how to handle iPad 2 inventory and questions:
"Fulfill iPad 2 Reservations, Hold all Other Inventory

If your store has inventory of iPad 2, (1) fulfill iPad 2 reservations orders and then (2) hold all other inventory until further notice. Corporate inventory teams will be monitoring sales to ensure the units sold match the reserve orders being fulfilled.

Due to agreement with vendors, more information about what these are being held for cannot be shared at this time. If customers ask you if you have inventory, let them know there isn't any inventory available for sale at this time."
Rating: – 45, flaming red.
ObamaPacman thoughts: Best Buy often performs holds for weekly promotions that start on Sunday. So consider putting Best Buy iPad 2 on your schedule this Sunday.
Update, April 12: ObamaPacman confirmed that Best Buy is still distributing iPad 2 for pre-order customers.
Update, April 13: Some readers are saying they are able to buy over the phone by using the Best Buy iPad 2 Inventory Tracker to find one.
via macrumors

Related Posts