Apple vs. Samsung Galaxy: iPhone Infringement Lawsuit, Analysis
Apple dropped a lawsuit on Samsung yesterday against the Android device manufacturer. But does the "look and feel" suit have any merit? Nilay Patel explains the trade dress and trademark infringement lawsuit.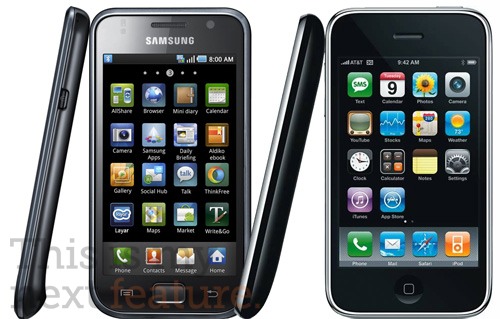 Apple Sues Samsung for Copying iPhone iOS "Look and Feel"
For the latest look and feel against Android maker Samsung, Apple describes:
"Instead of pursuing independent product development, Samsung has chosen to slavishly copy Apple's innovative technology, distinctive user interfaces, and elegant and distinctive product and packaging design, in violation of Apple's valuable intellectual property rights."
Today, former Engadget editor Nilay Patel explains the significance of the lawsuit in Apple sues Samsung: a complete lawsuit analysis, looking at various aspects, including:
Trade dress infringement
Federal trade dress infringement
Federal trademark infringement
Common law trademark infringement
Unfair business practices under the California Business and Professions Code
Unjust enrichment
Infringement of design patents
Basically, although Android is normally fugly, Samsung has tried to improve its Galaxy devices by copying Apple.
Not only did Samsung Android devices copied the iPhone design, Samsung also copied iOS design with its own TouchWiz UI (which Samsung put on top of Android).
Samsung Infringes Apple Federal Trademark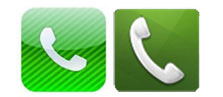 In this example, iPhone phone icon is on the left, Samsung icon on the right. Nilay Patel explains:
"In some cases, like the phone icon, the similarities are impossible to ignore. You might argue that the design of the phone icon is ridiculously trivial and obvious, but consider the flipside: Apple can argue just as persuasively that Samsung had a million options for a phone icon and instead chose a white handset resting at an angle on a green gradient background. Samsung's lawyers are going to have get creative with this one."
Apple has a Federal trademark, serial 85019804, on the iPhone's phone icon.
Apple Wins Fruit iMac "Look and Feel" Lawsuit
Trade dress lawsuits are not new for Apple, as Apple has successfully sued and win these "Look and Feel" trade dress lawsuits before. For example, in the days of the fruit colored Apple iMac, two companies made iMac knockoffs:
Future Power (Daewoo subsidiary) with its E-Power computer
eMachines (distributor Sotec) with its eOne computer
Apple sued Future Power in July 1999 and sued eMachines in August 1999. Apple won preliminary injunction PDF on Jonesday [PDF cached] in both cases in 2000, and effectively removed the infringing products from the marketplace.
The failed Future Power was a subsidiary of Korean company, Daewoo. Perhaps Korean company Samsung forgot already?

Related Posts