[VIDEO] Apple Introduces $299 Final Cut Pro X, Ships in June (updated)
Apple demoed the new Final Cut Pro X at NAB Show Final Cut Pro User Group SuperMeet. Summary of features + 50 minute video.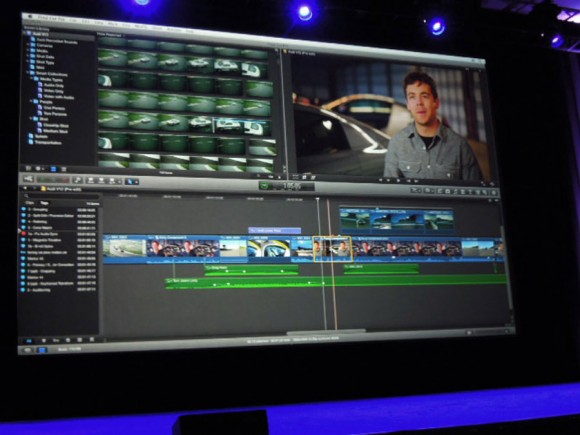 Apple Previews Final Cut Pro X Features
Apple NAB 2011 Keynote on Final Cut Pro, the software first introduced a decade ago in the 1998 NAB, and now said to be "Popular in indie film community. Essential for broadcast community." An Apple staff dressed in Steve Jobs fashion introduces the features. Reported by photographybay:
64 bit app: can use more than 4GB of RAM. Better utilize modern Mac Pro and MacBook Pro's ability to install 16GB, 32GB, and 64GB of RAM. (32 bit Mac OS X can access 32GB of installed RAM and each app can use 4gb of memory per App using Physical Address Extension. In contrast thw 32 bit Windows can access fewer than 4GB of RAM for the whole OS)
Fully color-managed with ColorSync
Resolution-independent playback system up to 4K
Background rendering
Grand Central Dispatch: parallel processing developed for supercomputers
Ready for editing before while import / ingest footage
No more transcoding before import
Media analyzed for stabilization during importing
Face detection (first introduced in iMovie [Mac App Store] and iPhoto [Mac App Store])
Shot detection: medium shots, close up shots, etc
Automatic audio noise cleanup option
Auto-syncing audio waveforms!
Non-destructive color balance
Easy color matching between clips
Portions of clips can have keywords
Audio and video are locked, can't knock it out of sync by accident
Secondary audio won't collide if clip is moved down timeline
Compound clips: combine clips to move together
Non-destructive edits / effects
Final Cut Pro X will be available on Mac App Store in June for $299.
Currently, Final Cut Studio, including Final Cut Pro 7 and Motion, is available at already competitive price of $999.
Video: Apple Final Cut Pro X
[UPDATED with better video]
via macrumors

Related Posts