Android Open to Pop-Up Airpush Notification Ads
Android open market allows pop-up ads on Fandroid devices, even when adware is not running, admits APNdroid developer.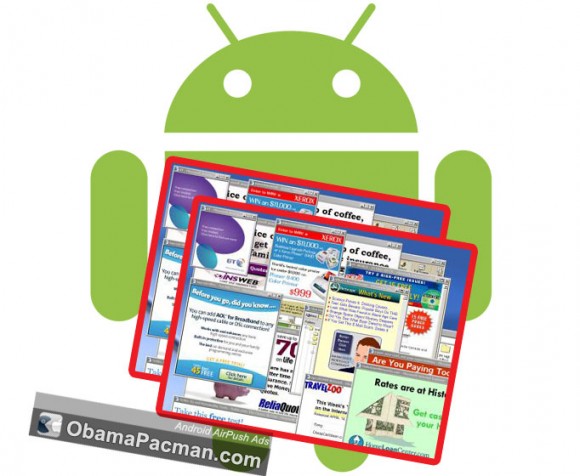 Android Allows Annoying Pop-Up Ads
Airpush (not related to Apple products or services) is a new ad format that takes advantage of the Android openness wasteland where basically anything is possible with no oversight. Due to the lax Android control, the pop-up ad can appear at any time as an notification, even when the software is not running.
Android App developer just added AirPush to unfavorable reviews. He tries to explain the "99% negative rating" of APNdroid by comparing to unskippable TV ads, but later realizes:
"TV ads are there only during the show, while push ads appear anytime, even while you do not use the app."
Google pulled the app without explanation. Developer wrote:
"Few hours ago I received email from Google that notified me about the fact that my app APNdroid (1.6M downloads, 4.5 average rating) was suspended because it violated some policy. No exact reason given."
Later Google re-allowed the unmodified adware to get back on the Android market, so it can continue to annoy Fandroids. Developer got an email from Google with no explanation on reversal of the adware pull:
"Upon further review, we've accepted your appeal and have reinstated your application. You will need to log back into your Developer Console to re-publish the application so it is available again on Android Market"
We know that Android market is open to bank account phishing apps and various malwares, some that steal personal data. Now Android users have to watch out for this new problem. Enjoy your pop-up notification ads, fandroids.
Open Android user experience, mission accomplished. FAIL.
[Martin Adamek, APNdroid developer via DF]

Related Posts