Adobe: 3 iPad CS5 Companion Apps + Photoshop Touch SDK
Adobe demos three iPad Apps for Creative Suite 5.5 and new software development kit.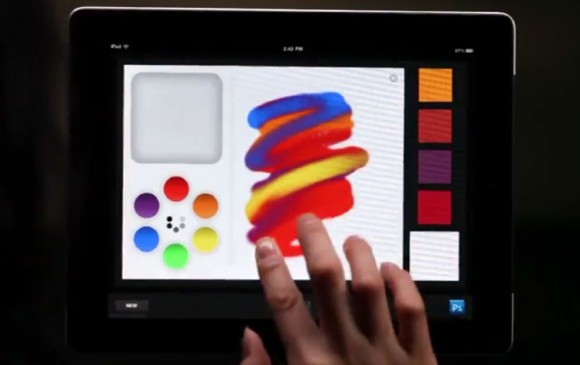 Video: Adobe iPad Apps Demo
Adobe Touch SDK allows interaction of mobile devices such as iPhone, iPod touch, and iPad with desktop Photoshop. These are three examples developed with it:
Adobe Color Lava: mix colors with your fingers on iPad to create custom swatches.
Adobe Eazel: use iPad to paint on computer like a Wacom tablet. Make wet and dry paintings with multi-touch 5-finger interface: "The paint spreads out as you go and 'dries' over a couple of seconds, and what's really cool is that—as you draw over the top of an existing stroke—Adobe Eazel knows how to bleed paint into that color." Has alpha channel / transparency.
Adobe Nav: view up to 200 Photoshop documents or customize Photoshop toolbar on iPad.
Color Lava and Eazel swatches and documents can both be saved on iPad, imported into Photoshop CS5 via wifi, or share through email. Does not require the new Adobe CS 5.5, minimum requirement is CS5 software with not yet released 12.0.4 update.
Expected on the Apple Store in early May, priced from $1.99 to $4.99.
Adobe Android Placement Fail
All of the detailed Adobe product demos are done on Apple iPad and Mac, but the video starts with brief shots of the slow iPad knockoff from Motorola. The Android device display even jumps for no reason around 10 seconds! Maybe Xoom Android tablet is too slow?

Related Posts