Walmart iPad 2 Inventory Tracker
Check iPad 2 availability with our WalMart stores inventory tracker / checker. Related: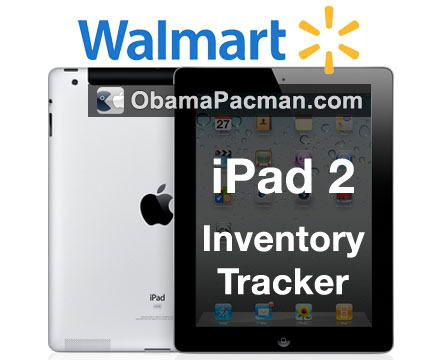 Walmart iPad 2 Inventory Availability Tracker
There are 3 ways to check Walmart iPad 2 inventory:
Mobile browser (uses iPhone GPS or zip code to locate)
Desktop browser (copy paste code)
Phone calls
ObamaPacman Exclusive: The Walmart iPad 2 availability locator took longer than expected to publish (and is slightly buggy) because we discovered that Walmart is display 6 model numbers instead of 18 model numbers. Basically, availability is semi accurate depending on time, but the size (16GB, 32GB, 64GB) may not be accurate. Technical details toward the end of the post.
Checking online? You'll see either "Not Carried" (black text), "Out of Stock" (red text), "Limited Stock" (green text), or "Available" (green text). Walmart's online inventory system updates once a day around midnight EST. So checking later in the day might not get you an accurate iPad 2 inventory count, especially for some Wal-mart supercenters that are open 24 hours. Note: check the 'last updated' time, the Walmart inventory system is not updated in some regions for days.
1. Mobile browser
Fire up your iPhone and go to links. Click the orange "Find in Store" button. Allow it to use your location or enter zip code. It'll then find iPad 2 inventory availability at a Walmart near you. Occasionally buggy, in those cases you have to enter your location or zip code a second time to access it.
Black iPad 2, Walmart Inventory Tracker/ Locator
White iPad 2, Walmart Inventory Checker
Current does not work for desktop browsers, not sure if it's a temporary issue or if they disabled computer browser access. See "last updated" time on the bottom of the tracker pages.
* Walmart UPC numbers are the same for different iPad 2 storage capacity, explained later. Currently, due to the same problem, all Walmart 16GB iPad 2 links display splash screen for all three products.
2. Desktop browser
Go to a product page, such as this iPad 2 product page
Paste one of the following lines of code (ordered by size, first is: Black, Wifi, 16GB) in place of the URL, and hit Enter.
OPTIONAL: replace 00000 with your zip code to skip the zip code asking page

Black, Wi-Fi, AT&T GSM, Verizon CDMA (16GB, 32GB, 64GB)
javascript:openSlapOverlay(15992206,00000,15992206)

javascript:openSlapOverlay(15992210,00000,15992210)

javascript:openSlapOverlay(15992212,00000,15992212)

javascript:openSlapOverlay(15992211,00000,15992211)

javascript:openSlapOverlay(15992213,00000,15992213)

javascript:openSlapOverlay(15992214,00000,15992214)

javascript:openSlapOverlay(15992215,00000,15992215)

javascript:openSlapOverlay(15992208,00000,15992208)

javascript:openSlapOverlay(15992207,00000,15992207)
White, Wi-Fi, AT&T GSM, Verizon CDMA (16GB, 32GB, 64GB)
javascript:openSlapOverlay(15992235,00000,15992235)

javascript:openSlapOverlay(15992236,00000,15992236)

javascript:openSlapOverlay(15992239,00000,15992239)

javascript:openSlapOverlay(15992229,00000,15992229)

javascript:openSlapOverlay(15992228,00000,15992228)

javascript:openSlapOverlay(15992230,00000,15992230)

javascript:openSlapOverlay(15992231,00000,15992231)

javascript:openSlapOverlay(15992234,00000,15992234)

javascript:openSlapOverlay(15992233,00000,15992233)
3. Call for Walmart iPad 2 Inventory
If you see some in inventory, call your local store and ask for the electronics counter. You might have better success if you provide them the UPC number (UPC example: 88590945758, listed in first section).
Our local Walmart in Northern Virginia says they receive iPad 2 shipment Monday to Thursday only. This store says they can hold a reservation over the phone for 30 minutes. Your stores might have different delivery schedule, some will hold an iPad 2 for an hour. Of course this might change over time depending on their iPad 2 inventory level.
Walmart iPad 2 Inventory System Fail
ObamaPacman.com discovered what's messed up in Walmart's inventory system: There are 18 modes of iPad in the US: 3 sizes (16GB, 32GB, 64GB), 3 connectivity (wifi, GSM, CDMA), 2 colors (black, white), so Apple has 18 product numbers.
However, Walmart seems to be using only 6 model numbers with 3 size options at this time. For example, instead of using MC769LL/A, MC770LL/A, and MC916LL/A for 16GB, 32GB, 64GB black iPad 2 WiFi, Walmart is using MC769LL/A and UPC of 88590945758 to describe all 3 sizes. Note: Walmart does have different numbers in the back end for each product size, but the front end shows the same model and UPC numbers.
Not using the full 18 product codes probably screws with their inventory control system. We're guessing depending on the store and inventory entry person, they may or may not notice the subtle difference between the different iPad 2 sizes. What does it mean? Some people are getting lucky finding their Apple tablet in a size that's not in Walmart iPad 2 inventory system. On the other end, others are finding their Walmart inventory is updated very slowly, with inaccurate availability information. Thus, tip from ObamaPacman is: if you see iPad 2 in stock, call and try to reserve it for immediate pickup.
Now that Walmart knows about this, when do you they'll fix their system?
Like the story? Follow us on Twitter @obamapacman or Like Us on Facebook.

Related Posts